Updated July 09 2017
EDENTON, N.C.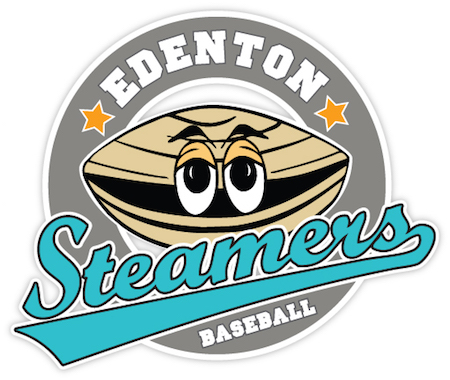 The Edenton Steamers (20-13) were shut out by the Wilmington Sharks in a 2-0 loss at The Shark Tank.
The Sharks (18-17) scored a run in the first inning on an RBI single by Trevor McCutchin after an error by Connor Kopach to allow the runner to reach.
John Arel was excellent for the Steamers on the mound. Arel went six innings giving up just one run on three hits with seven strikeouts and one walk.
However, the Sharks got a tremendous outing of their own.
Breydan Gorham threw a complete game shutout while striking out 12 batters and walking none.
Wilmington added an insurance run in the bottom of the eighth on two throwing errors on the same play to make the game 2-0 as the eventual final in the contest.
The Steamers will be off until July 12 with the All-Star Break from the July 9-11.
The Teal and Black will take on the Fayetteville SwampDogs on July 12 at Historic Hicks Field following the All-Star Break.
The Clams will have Jason Agresti, James Battley, Jamie Galazin, Carmen Giampetruzzi, Connor Kopach and Billy Wilson that will represent Edenton in the 2017 All-Star Game.
Head over to coastalplain.com for all of the All-Star Weekend festivities.
The Edenton Steamers are proudly celebrating their 20th anniversary season as a member of the Coastal Plain League in 2017. Be sure to follow the Teal and Black on social media to stay up to date with all things Steamers. You can find the team on Facebook @EdentonSteamers, Twitter @EdentonCPL, Instagram @edentonsteamers, and Snapchat @edentonsteamers. For more information visit edentonsteamers.com or call (252) 482-4080.
The Coastal Plain League is the nation's premier summer collegiate baseball league. Celebrating its 22nd season in 2018, the CPL features 16 teams playing in Georgia, North Carolina, South Carolina and Virginia. The CPL has had over 1,450 alumni drafted and 111 of those – including 2011 AL MVP and Cy Young winner Justin Verlander – make their Major League debut; while another notable alum – Russell Wilson – won Super Bowl XLVIII. For more information on the Coastal Plain League, please visit the league website at www.coastalplain.com and follow us via Facebook, Twitter, Instagram and Snapchat @CPLBaseball..
Contact:
Elijah Gonzalez
Phone:
(252)-482-4080