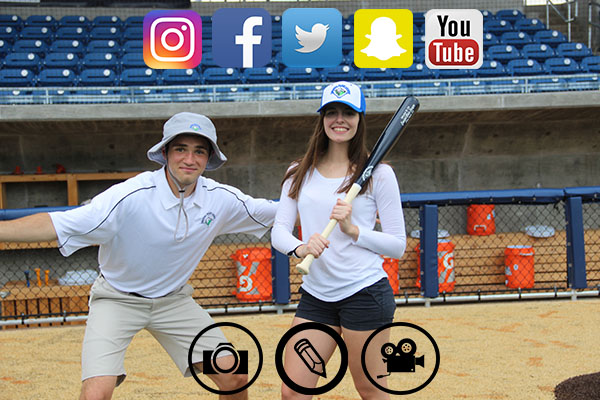 Multimedia Interns Wanted For Coastal Plain League Teams - Huge Portfolio Building Opportunity!

Start Date: Mid-May 2018
End Date: Mid-August 2018
Academic Qualifications: Prefer Communication, Design, Media, etc. fields of study, but will consider other qualified applicants.
Desired Skills and Qualifications:
• Familiar with social media platforms (specifically Instagram & SnapChat) and the proper etiquette required in a professional setting.
• Video editing is a plus but not required
• Must have your own device to shoot video, pictures, post, etc. from. Many schools have rented these out to interns in the past. Phones are acceptable if high quality and you accept data responsibilities.
• Computer savvy, comfortable with Microsoft Word, Photoshop, or any graphic design program
• Responsible enough to work alone
• Knowledge of baseball a plus
Description and Responsibilities:
Each intern will be assigned to one of our 16 franchises (across four states) and be responsible for posting to the league's SnapChat and Instagram accounts for each home game. They will also be asked to collect video, pictures and more of the players for our media database. Their work will be featured in articles as well as the league's Around the CPL weekly show.
Interns will have the opportunity to pitch their own story ideas, whether print or digital based, throughout the summer as well as taking part in league wide video initiatives (i.e. Memorial Day, Fourth of July, Father's Day, etc.)
Overall we feel this internship offers students the rare opportunity to build their portfolio in an impactful manner. It also allows them to be apart of the most entertaining league in the country - no pressure.
(Travel to road games is NOT required. Working all home games is a MUST)
Compensation: Meal stipend for each home game worked. Local housing where available for interns outside of the team's geographic footprint.
Credit: College credit towards a major, minor, or general elective is welcomed.
TO APPLY OR QUESTIONS: Please email Shelby Hilliard at .(JavaScript must be enabled to view this email address) with resume and examples of work if you have them (not required.)
Team Locations:
Asheboro Copperheads - Asheboro, N.C.
Edenton Steamers - Edenton, N.C.
Fayetteville SwampDogs - Fayetteville, N.C.
Florence RedWolves - Florence, S.C.
Forest City Owls - Forest City, N.C.
Gastonia Grizzlies - Gastonia, N.C.
High Point-Thomasville, HiToms - Thomasville, N.C.
Holly Springs Salamanders - Holly Springs, N.C.
Lexington County Blowfish - Lexington, S.C.
Macon Bacon - Macon, Ga.
Martinsville Mustangs, Martinsville, Va.
Morehead City Marlins - Morehead City, N.C.
Peninsula Pilots - Peninsula, Va.
Savannah Bananas - Savannah, Ga.
Wilmington Sharks - Wilmington, N.C.
Wilson Tobs - Wilson, N.C.
-Housing potentially available in some places but any interns from out of the area are not guaranteed free housing.
The Coastal Plain League is the nation's premier summer collegiate baseball league. Set to begin its 22nd season in 2018, the CPL features 16 teams playing in Georgia, North Carolina, South Carolina and Virginia. The CPL has had over 1,450 alumni drafted and 109 of those – including 2011 AL MVP and Cy Young winner Justin Verlander – make their Major League debut; while another notable alum – Russell Wilson – won Super Bowl XLVIII. For more information on the Coastal Plain League, please visit the league website at http://www.coastalplain.com and follow us via Twitter @CPLBaseball