Updated August 30 2017
HOLLY SPRINGS, N.C.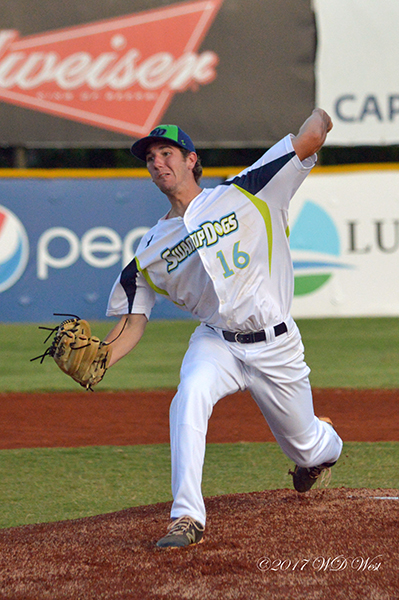 The Coastal Plain League announced today that Zach Neff (picture courtesy East to West Photography) of the Fayetteville SwampDogs has been named the 2017 CPL Pitcher of the Year. This was Neff's first season with the SwampDogs and in the CPL.
Neff, a 6-0, 180-pound junior from Austin Peay led the league in strikeouts with 65, walks allowed at seven and tied for the lead in wins with seven. He also finished second overall in earned run average at 1.45, third in opposing batting average, and fourth in hits allowed at 34. Overall the left-hander finished the year with a perfect 7-0 record over 49 2/3 innings pitched to go along with a .186 opponent's batting average and 0.83 WHIP.
One of his most impressive night's came on July 1 versus Florence when he tossed a seven-inning complete game shutout with 14 strikeouts and only two hits allowed, this performance earned him Week Five Pitcher of the Week honors. Neff was also named to the East Division All-Star team in July, allowing no hits, runs or walks in his one inning of work for the East.
His leadership on the mound also helped the SwampDogs to a East Division First-Half Division Championship and the number one seed in the East Division Petitt Cup Playoffs. Neff was also named a First Team All-CPL starting pitcher, the rest of the team will be announced later this week. All player awards are selected after gathering feedback from coaches as well as team and league officials.
The Coastal Plain League is the nation's premier summer collegiate baseball league. Set to begin its 22nd season in 2018, the CPL features 16 teams playing in Georgia, North Carolina, South Carolina and Virginia. The CPL has had over 1,400 alumni drafted and 108 of those – including 2011 AL MVP and Cy Young winner Justin Verlander – make their Major League debut; while another notable alum – Russell Wilson – won Super Bowl XLVIII. For more information on the Coastal Plain League, please visit the league website at www.coastalplain.com and follow us via Twitter @CPLBaseball.
Contact:
Shelby Hilliard
Phone:
919-852-1960