Updated July 17 2014
WILSON, N.C.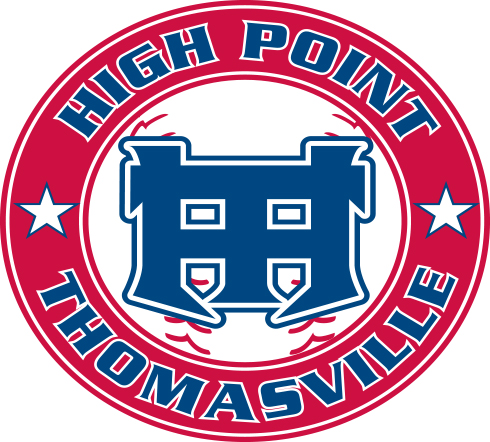 For the second straight year, the High Point-Thomasville HiToms and Wilson Tobs' "Train Game" was a thriller as Wilson walked off to a 5-4 win.
Wilson used three innings to score four unanswered runs courtesy of RBI hits from Matthew Parrish, Kenny Hostrander, Doug Teegarden, and Drew Cole while starting pitcher John Valek kept the HiToms hitless through five innings. The HiToms notched a hit in the sixth of the bat of Joey Havrilak (rs jr., Akron) but he was stranded.
High Point-Thomasville battled back in the top of the eighth, though. After Ryan Hodge (jr., Gardner-Webb) led off the frame with a double. Two batters later, Des Roberts (rs jr., UNC-Charlotte) drove him in with a RBI single to put the HiToms on the board trailing 4-1. A walk, an error, and a fielder's choice loaded the bases with two out for Josh Ingram (jr., Central Oklahoma) who hit a grounder to second that was thrown away and allowed two runners to score narrowing the gap to one. Trip Dunn (rs jr., Catawba Valley CC) followed with a misplayed grounder to third that scored the tying run knotting the game at four apiece.
In the bottom of the ninth with the score tied, HiToms reliever Eric Sharff (fr., Delaware State – 1-2) plunked the first two batters of the inning. Then after a sac bunt and intentional walk loaded the bases, HiToms closer Laetten Galbraith (rs jr., Louisana Tech) threw a wild pitch to end the ballgame.
The HiToms return home to Finch Field Friday to host the Martinsville Mustangs on Farm2Field Night. First pitch is scheduled for 7:00 P.M.
The Coastal Plain League is the nation's premier summer collegiate baseball league. Celebrating its 22nd season in 2018, the CPL features 16 teams playing in Georgia, North Carolina, South Carolina and Virginia. The CPL has had over 1,450 alumni drafted and 111 of those – including 2011 AL MVP and Cy Young winner Justin Verlander – make their Major League debut; while another notable alum – Russell Wilson – won Super Bowl XLVIII. For more information on the Coastal Plain League, please visit the league website at www.coastalplain.com and follow us via Facebook, Twitter, Instagram and Snapchat @CPLBaseball..
Contact:
Nkwa Asonye
Phone:
336-472-8667