Updated July 08 2014
THOMASVILLE, N.C.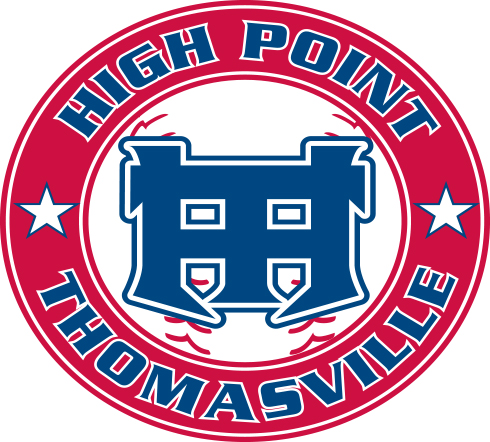 Chase Cunningham's quality start couldn't buoy the High Point-Thomasville HiToms Tuesday after a lengthy weather delay as they fell to the Martinsville Mustangs 4-1.
Cunningham (jr., Belmont – 0-3) faced the minimum through four innings but faltered in the fifth. After Mustangs first baseman Max Beerman led off the inning with a double, Charley Gould drove him in with a RBI single giving Martinsville (15-19, 3-3) a one-run lead. High Point-Thomasville came back to tie it in the bottom of the sixth, however, and they didn't even need a hit to do it.
Centerfielder Cody Brittain (so., USC-Upstate) drew a walk to start the frame. After Brittain stole second and advanced to third on a groundout, CPL West All-Star Alec Paradowski (so., Wofford) drove him in with a sacrifice fly to left tying the game at one apiece.
Not long afterward, the wind picked up and a storm hit Finch Field causing a one hour and twelve minute rain delay. Play would resume though and Cunningham took the mound for the HiToms in the top of the seventh. Martinsville's Gould greeted him rudely with a leadoff double to left-center field before catcher Ryan Hissey followed him with a RBI double of his own giving Martinsville a 2-1 lead and pulling Cunningham from the game.
The Mustangs tacked on two runs in the top of the ninth from two outfield errors to provide the final 4-1 margin. Both squads now have four wins apiece in the season series.
The HiToms have Wednesday off before traveling to Sims Legion Park Thursday to face the Gastonia Grizzlies in a doubleheader. First pitch is scheduled for 6 P.M.
The Coastal Plain League is the nation's premier summer collegiate baseball league. Celebrating its 22nd season in 2018, the CPL features 16 teams playing in Georgia, North Carolina, South Carolina and Virginia. The CPL has had over 1,450 alumni drafted and 111 of those – including 2011 AL MVP and Cy Young winner Justin Verlander – make their Major League debut; while another notable alum – Russell Wilson – won Super Bowl XLVIII. For more information on the Coastal Plain League, please visit the league website at www.coastalplain.com and follow us via Facebook, Twitter, Instagram and Snapchat @CPLBaseball..
Contact:
Nkwa Asonye
Phone:
336-472-8667