Updated July 05 2017
FAYETTEVILLE, N.C.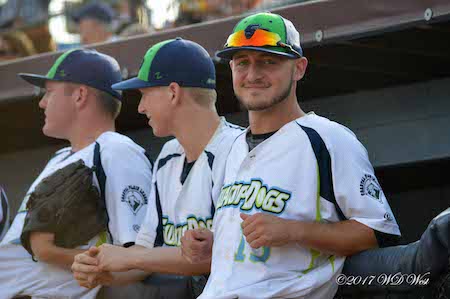 The Fayetteville SwampDogs (20-11) saw their 7-game winning streak snapped by the Holly Springs Salamanders (13-18) despite a strong start from Blake Tuthill (Chico State) who allowed just 2 runs in 6 innings of work, but was saddled with his second loss of the year falling to (0-2).
Matt Morrow (Wright State) provided some early offense plating the SwampDogs lone run of the game in the 1st inning on a groundout that scored All-Star Austin Edgette to put the Dogs on top 1-0. The SwampDogs wouldn't score again, stranding 11 runners in the contest and providing the Salamanders a window to pull off the upset.
Holly Springs would tie things up in the 4th inning with Zach Piazza (Limestone) scoring on a Tripp Shelton (UNC-Greesnboro) single down the right field line. The Salamanders would score the game-winning run one inning later as Adam Sisk (James Madison) scored on a Piazza single, putting the 'Manders on top 2-1.
Ben Gross (Princeton) picked up the victory, entering in the 4th inning and giving up just one hit in 4 innings of relief to improve to (2-1). Michael Hope entered in the 9th inning and loaded the bases with two outs in the inning, inducing a pop-up from Braedon Barrett (Tulane) to escape the jam.
The SwampDogs return to the Swamp on Friday for their Summer Spooktacular against the Wilmington Sharks. The gates will open at 6 with first pitch at 7:05. For all your SwampDogs news and updates please visit GoSwampDogs.com and follow us on Twitter @GoSwampDogs. The SwampDogs season is presented by Fayetteville Kia.
The Coastal Plain League is the nation's premier summer collegiate baseball league. Celebrating its 22nd season in 2018, the CPL features 16 teams playing in Georgia, North Carolina, South Carolina and Virginia. The CPL has had over 1,450 alumni drafted and 111 of those – including 2011 AL MVP and Cy Young winner Justin Verlander – make their Major League debut; while another notable alum – Russell Wilson – won Super Bowl XLVIII. For more information on the Coastal Plain League, please visit the league website at www.coastalplain.com and follow us via Facebook, Twitter, Instagram and Snapchat @CPLBaseball..
Contact:
Leo Blavin
Phone:
(910)-426-5900