Updated January 16 2018
FAYETTEVILLE, N.C.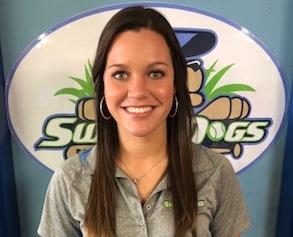 The Fayetteville SwampDogs are pleased to announce the hiring of Brittany Tschida as the Assistant General Manager.
A graduate of Chowan University in Murfreesboro, NC, Tschida is no stranger to the Fayetteville SwampDogs. She has spent the past three seasons with the team as a seasonal intern.
"Brittany's experience and enthusiasm will be an incredible addition," said SwampDogs General Manager Jeremy Aagard. "She fits perfectly into our family atmosphere and we expect great things from her in the community. As we celebrate our 18th season, we look forward to Brittany being an integral part of taking the SwampDogs to a whole new level of entertainment and welcoming more fans than ever before!"
A Fayetteville, NC native, Tschida graduated from Village Christian Academy prior to attending Chowan University. She graduated with her BS in Sports Management with a concentration in Business Administration in just over three years while playing volleyball for the Hawks.
Tschida's duties will include corporate partnerships, group ticket sales and ballpark operations. Her attention to detail and ensuring that every fan has an incredible experience make her the perfect fit for the SwampDogs.
"I'm looking forward to being back in Fayetteville," said Tschida. "I'm excited to really connect with the community and fans to bring them the best experience in baseball."
"Her work ethic and passion for our fans is second to none," continued Aagard. "She is committed to making everyone around her better and, in turn, our fans will have their best experience yet!
This is an exciting time for the SwampDogs as we look to bring the Petitt Cup here along with the Coastal Plain League Organization of the Year honor."
About the SwampDogs: The Fayetteville SwampDogs enter their 18th season playing in the Coastal Plain League in 2018. The SwampDogs are one of the most successful franchises in the league's history, boasting over 100 alumni taken in the draft, including eight players who have gone on to play in Major League Baseball including slugger Mark Reynolds and David Aardsma. For more information on the Fayetteville SwampDogs, visit the team website at GoSwampDogs.com and follow us on Twitter and Instagram @GoSwampDogs. Be sure to also like us on Facebook at Fayetteville SwampDogs Baseball.
The Coastal Plain League is the nation's premier summer collegiate baseball league. Celebrating its 22nd season in 2018, the CPL features 16 teams playing in Georgia, North Carolina, South Carolina and Virginia. The CPL has had over 1,450 alumni drafted and 111 of those – including 2011 AL MVP and Cy Young winner Justin Verlander – make their Major League debut; while another notable alum – Russell Wilson – won Super Bowl XLVIII. For more information on the Coastal Plain League, please visit the league website at www.coastalplain.com and follow us via Facebook, Twitter, Instagram and Snapchat @CPLBaseball..
Contact:
Jeremy Aagard
Phone:
910-426-5900