Updated March 08 2018
SAVANNAH, G.A.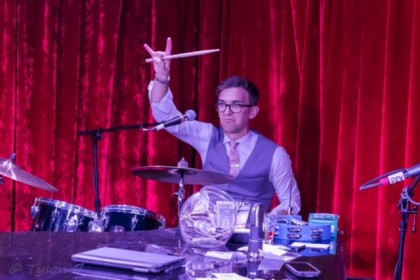 The Savannah Bananas are excited to announce that they have hired a Director of Fun. Tyler Gray, originally from Chattanooga, TN, made the move to Savannah to join the team on February 26th.
Gray joins the Bananas after four years with Norwegian Cruise Line and as the Cruise Director for NCL's flagship, the Norwegian Escape. During his time with Norwegian, he oversaw all onboard entertainment and activities for over 5,000 guests weekly and managed a team of 200 employees. Tyler is an entertainer and well-known Master of Ceremonies who has hosted events and been on stage with celebrities such as Whoopi Goldberg, Michael Douglas, Rod Stewart, celebrity chef Aaron Sanchez, Iron Chef Jose Garces, and Pitbull.
"I am extremely excited to be a part of the Bananas family and the Savannah community," said Gray. "The Bananas have already made big waves not only in baseball but in the entertainment industry. They took the game of baseball and made it into a spectacular show that everyone can enjoy."
Bananas owner, Jesse Cole, added, "Over 200 people reached out to us from across the country to be the Director of Fun. Once we saw Tyler's videos and what he said he wanted to bring to Savannah, we knew this could be something special."
"Tyler is a game changing hire for the Bananas organization. He brings energy and experience like we've never seen before. He is an idea machine and I can guarantee fans will see things they've never seen before at the stadium this summer. My one suggestion for the fans is to expect the unexpected with Tyler."
He plans to bring his talents in entertainment to help the Bananas build on their success and grow the Bananas brand. In addition to acting as the on-field host during games and events at Grayson Stadium, Gray will also develop a strong presence throughout the Savannah community.
"We have already started planning the entertainment for the upcoming season and are bringing it to a whole new level that you don't want to miss. It's only the beginning and I am excited to see where the journey takes us!"
Fans will be able to meet Tyler at upcoming events, including the Tap of the Morning Beer Fest on April 7th. Those interested in seeing him in action at a Bananas home game can sign up for the Single Game Priority List to purchase tickets at www.thesavannahbananas.com/prioritylist.
The Coastal Plain League is the nation's premier summer collegiate baseball league. Celebrating its 22nd season in 2018, the CPL features 16 teams playing in Georgia, North Carolina, South Carolina and Virginia. The CPL has had over 1,450 alumni drafted and 111 of those – including 2011 AL MVP and Cy Young winner Justin Verlander – make their Major League debut; while another notable alum – Russell Wilson – won Super Bowl XLVIII. For more information on the Coastal Plain League, please visit the league website at www.coastalplain.com and follow us via Facebook, Twitter, Instagram and Snapchat @CPLBaseball..
Contact:
Liz Bushaw
Phone:
912-712-2482