Updated February 28 2018
WILSON, NC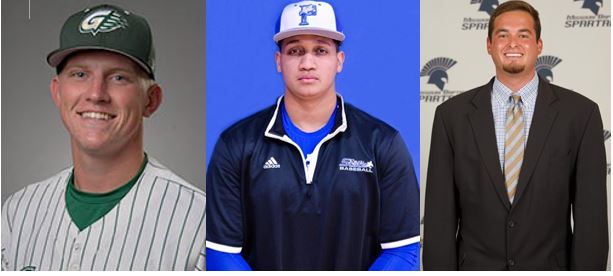 The Tobs will continue to provide a deeper look at the 2018 roster. More pitching is on the way to Wilson and they are arriving from NAIA (National Association of Intercollegiate Athletics) schools. Hunter Peck (Georgia Gwinnett), Eddy Tavarez Cabrera (Peru State), and Gary Watkins (Missouri Baptist) are the newest members of your Wilson Tobs.
Prior to attending Georgia Gwinnett, Hunter Peck played his first two seasons at Ferrum College. Peck enjoyed a strong freshman season pitching 33 innings out of the bullpen and only giving up 4 runs. He struck out 64 batters and only walked 7. His sophomore campaign was successful, but in a starting role. He started 9 games and threw a complete game in 4 of those. With 62 innings pitched, he only walked 12 and struck out 65. In two seasons, he recorded a 2.08 ERA and threw 100 innings for Ferrum. After transferring in the off-season, he is now the ace for Georgia Gwinnett College, and is off to a 3-0 start this season. The junior lefty will be working out of the bullpen for the Tobs and will receive the occasional spot start. Peck has a fastball that will reach 90 mph and shows strong command of the strike zone using all three of his pitches.
Eddy Tavarez Cabrera will be a name to remember. The 6'5, 250 lb junior will be a big right-handed arm providing plenty of velocity behind his fastball. Cabrera comes to Wilson from Peru State where he is in the starting rotation for the Bobcats. You can expect to see him in the bullpen for the Tobs this summer. His powerful fastball that is consistently around the 95 mph makes him a constant threat to opposing batters. So far in his 2018 season Tavarez has yet to give up an earned run in two starts, and through 9 innings he has racked up 12 strikeouts.
Gary Watkins is in the starting rotation this spring at Missouri Baptist University, and the right-hander will be in the rotation for the Tobs this summer. With an upper 80's mph fastball that can touch 90 mph, Watkins' strength lies in his ability to command the bottom of the strike zone. His sinking fastball and ability to pitch to contact, combined with his upbeat tempo on the mound keeps the defense involved. His ability to control the pace of the game is a staple to any team he takes the mound for.
The Wilson Tobs home opener and Firework Show for the 2018 season is Sunday, May 27th @ 6 PM. Season tickets and ticket packages are on sale now and can be purchased by calling (252) 291-8627, or by visiting www.wilsontobs.com/tickets.
The Wilson Tobs enter their 22nd season as a founding member of the Coastal Plain League. The upcoming season for the Tobs will see an expanded community outreach effort, increased participation in helping the less fortunate, a Pettit Cup Championship team, and more exciting entertainment for the Wilson Community. We would like to dedicate each successful season to the Wilson Community, Coastal Plain League Organization, Host Families, Corporate Partners, and the Dedicated Fans throughout the city of Wilson. The Wilson Tobs have played host to over 100 alumni taken in the draft and have produced a dozen players who have gone on to play in the MLB, including Cy Young & MVP winner Justin Verlander. For more information on the Wilson Tobs, visit our website www.wilsontobs.com.
The Coastal Plain League is the nation's premier summer collegiate baseball league. Celebrating its 22nd season in 2018, the CPL features 16 teams playing in Georgia, North Carolina, South Carolina and Virginia. The CPL has had over 1,450 alumni drafted and 111 of those – including 2011 AL MVP and Cy Young winner Justin Verlander – make their Major League debut; while another notable alum – Russell Wilson – won Super Bowl XLVIII. For more information on the Coastal Plain League, please visit the league website at www.coastalplain.com and follow us via Facebook, Twitter, Instagram and Snapchat @CPLBaseball..
Contact:
Mike Bell
Phone:
(252) 291-8627