Updated February 14 2018
WILSON, NC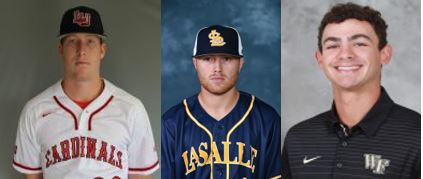 The Wilson Tobs are excited to announce the next set of players for the 2018 season. The roster continues to become more athletic consisting of players with defensive versatility. Patrick Frick (Wake Forest University), Caleb Dean (Missouri Baptist), and Kevin McGowan (LaSalle) are the newest members of the Tobs family.
Patrick Frick is a 6'2" sophomore from Greenville, SC, who will be starting in RF for the Demon Deacons. While mainly being an outfielder, he will see time at every position except pitcher and catcher in Wilson this summer. His versatility will be unmatched. Last summer Frick spent his time playing in the New England Collegiate Baseball League (NECBL) and batted over .300 while playing shortstop and second base. As a true freshman for Wake Forest, he appeared in 22 games and held a .294 average. His ability to play multiple positions and handle the bat well is what makes him a valuable asset to the Tobs. He comes from an area that breeds strong talent at J.L Mann High School, and the Wilson community should be excited to see him perform here.
McGowan, from La Salle, is known for getting on base and always providing the timely base knock. The junior will see time at third and second base, while also having the ability to play shortstop. His left-handed swing is just as smooth as it is clutch. McGowan, will look to produce the same results at Historic Fleming Stadium as he has been seen to do at La Salle. In 2017 he enjoyed a breakout season for La Salle, earning back to back Big 5 player of the week and batted an impressive .370. Led the team in runs scored (26), second in RBI's (22), and reached base in 15 straight games to end the season. Also, McGowan had 15 games in 2018 in which he recorded two or more hits. Being a staple in La Salle's offensive scheme is the reason he is so valuable. Add that to being able to play any position on the infield, and you have yourself another versatile Tob for 2018.
A redshirt-junior at Missouri Baptist, Caleb Dean, will also be wearing black and gold come May 27th. Dean will be a two-way player spending most of his time at first base or a corner outfield position. It doesn't stop there for he can also yield results on the mound. He is slated to be a power bat and a bullpen arm for the Tobs during the 2018 season. Prior to transferring to Missouri Baptist, Dean hit 22 home-runs for Hill College, and played in the Texas Collegiate League, as well as the Northwoods League for the Lakeshore Chinooks. Dean is off to a solid start in 2018 with the Spartans, he has already belted a home-run and a double through the first 6 games.
The Wilson Tobs home opener and Firework Show for the 2018 season is Sunday, May 27th @ 6 PM. Season tickets and ticket packages are on sale now and can be purchased by calling (252) 291-8627, or by visiting www.wilsontobs.com/tickets.
The Wilson Tobs enter their 22nd season as a founding member of the Coastal Plain League. The upcoming season for the Tobs will see an expanded community outreach effort, increased participation in helping the less fortunate, a Pettit Cup Championship team, and more exciting entertainment for the Wilson Community. We would like to dedicate each successful season to the Wilson Community, Coastal Plain League Organization, Host Families, Corporate Partners, and the Dedicated Fans throughout the city of Wilson. The Wilson Tobs have played host to over 100 alumni taken in the draft and have produced a dozen players who have gone on to play in the MLB, including Cy Young & MVP winner Justin Verlander. For more information on the Wilson Tobs, visit our website www.wilsontobs.com.
The Coastal Plain League is the nation's premier summer collegiate baseball league. Celebrating its 22nd season in 2018, the CPL features 16 teams playing in Georgia, North Carolina, South Carolina and Virginia. The CPL has had over 1,450 alumni drafted and 111 of those – including 2011 AL MVP and Cy Young winner Justin Verlander – make their Major League debut; while another notable alum – Russell Wilson – won Super Bowl XLVIII. For more information on the Coastal Plain League, please visit the league website at www.coastalplain.com and follow us via Facebook, Twitter, Instagram and Snapchat @CPLBaseball..
Contact:
Written by: Mike Bell
Phone:
(252) 291-8627