Updated March 15 2018
WILSON, NC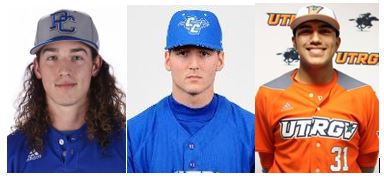 Three closing pitchers will make their way to Wilson to compete in the back half of the bullpen for the Tobs. Luis Acosta (Texas Rio Grand Valley), Jarred Gallagher (Central Connecticut State), and Trevor Whitley (Presbyterian College) will be the next three pitchers announced for your Wilson Tobs. When the game gets tight and the pressure is on, you can expect to see one of these three arms in black and gold on the mound at Historic Fleming Stadium.
Acosta, the 6'5 left-handed junior will be a go-to arm all summer for head coach Bryan Hill. His experience and professional approach to the game of baseball provides a strong level of comfortability to have him close baseball games. You can expect a low 90's fastball with a wipe out slider. So far this season, Acosta has 26 strikeouts in just 15.2 innings of work. In 2017, Acosta recorded 6 saves in 21 appearances. He also pitched in the NECBL last summer where he went 2-0 with a save out of the bullpen for the Vermont Mountaineers.
On the other end of the spectrum, Jarred Gallagher, the 5'9 junior, is also heading to Wilson to appear late in ball games. The left-hander from Central Connecticut State recorded 8 saves for the Blue Devils and compiled a 3-1 record in 2017. He received All-NEC 1st team for his efforts in 2017. He is known for having pin-point control and a 4-pitch arsenal that is a left-handed batters' worst nightmare. His efforts will be used very frequently in a task-oriented bullpen that has been put together here in Wilson. So far in 2018, he has logged 5 innings of work while recording a save and 9 strikeouts.
Trevor Whitley, a true freshman from North Lincoln High School will be coming to Wilson after his first season with Presbyterian College. The 6'4, 210 lbs. frame will provide a fastball in the low 90's that is straight downhill. Add that to having a plus change-up in his arsenal and you have a ground ball machine. Ground balls and strikeouts is the formula for Whitley making him a valuable addition to the back end of the Tobs bullpen.
The Wilson Tobs home opener and Firework Show for the 2018 season is Sunday, May 27th @ 6 PM. Season tickets and ticket packages are on sale now and can be purchased by calling (252) 291-8627, or by visiting www.wilsontobs.com/tickets.
The Wilson Tobs enter their 22nd season as a founding member of the Coastal Plain League. The upcoming season for the Tobs will see an expanded community outreach effort, increased participation in helping the less fortunate, a Pettit Cup Championship team, and more exciting entertainment for the Wilson Community. We would like to dedicate each successful season to the Wilson Community, Coastal Plain League Organization, Host Families, Corporate Partners, and the Dedicated Fans throughout the city of Wilson. The Wilson Tobs have played host to over 100 alumni taken in the draft and have produced a dozen players who have gone on to play in the MLB, including Cy Young & MVP winner Justin Verlander. For more information on the Wilson Tobs, visit our website www.wilsontobs.com.
The Coastal Plain League is the nation's premier summer collegiate baseball league. Celebrating its 22nd season in 2018, the CPL features 16 teams playing in Georgia, North Carolina, South Carolina and Virginia. The CPL has had over 1,450 alumni drafted and 111 of those – including 2011 AL MVP and Cy Young winner Justin Verlander – make their Major League debut; while another notable alum – Russell Wilson – won Super Bowl XLVIII. For more information on the Coastal Plain League, please visit the league website at www.coastalplain.com and follow us via Facebook, Twitter, Instagram and Snapchat @CPLBaseball..
Contact:
Mike Bell
Phone:
(252) 291-8627