Updated April 30 2018
WILSON, NC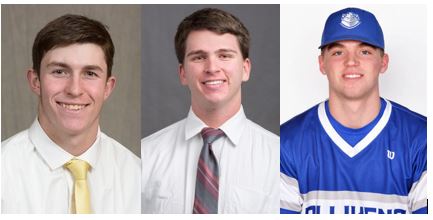 Three new arms are set to take the rubber here at Historic Fleming Stadium in less than a month. Charlie Sheehan (St. Louis University), Danny Cody (Baldwin Wallace), and Chris Kernen (NC Central) are three right handed pitchers with plenty of experience under their belt. You can expect to see all three arms on the mound for multiple games this summer.
Charlie Sheehan will be a long way from home while wearing black and gold this summer. The Minnesota native has posted 32 innings out of the bullpen for the Billikens. Opponents are batting just .264 off him, and he has compiled a 2-2 record this season. Sheehan has 6 starts on the spring and 8 relief appearances. His role will not change here in Wilson as you can expect him to be a spot starter with plenty of relief appearances coming his way. Having a fastball in the upper 80's while mixing in a strong split finger and a power curve will be the recipe for weak contact.
Danny Cody, the 6'3" junior will be an exciting arm to keep up with this season. Look for him to be in the Tobs starting rotation with a four-pitch arsenal. His fastball will have plenty of life to it in the low 90's while he pounds the zone with all four pitches. No stranger to getting the ball for the first inning of the game, he has been a starter at Baldwin Wallace the past two seasons. This season he has logged 61 innings and struck out 80 batters while only walking 22. His 2.36 ERA is the yellow jackets lowest on the season.
Chris Kernen will look to set up camp in Wilson for the summer. The 6'3" junior from Greensboro, NC will be in the starting rotation for the Tobs. This season he is the main reliever for NCCU, and last summer he was a starting pitcher for the Kernersville Bulldogs, the champions of the Carolina-Virginia League. This season he has 53 innings in 8 starts and 13 relief appearances. He has logged a 3.06 ERA and only walked 16 batters. A fastball that can be well located on both sides of the plate and will sit in the upper 80's-low 90's, complimented with a tight slider, Kernen will look to keep hitters off balance.
The Wilson Tobs home opener and Firework Show for the 2018 season is Sunday, May 27th @ 6 PM. Season tickets and ticket packages are on sale now and can be purchased by calling (252) 291-8627, or by visiting www.wilsontobs.com/tickets.
The Wilson Tobs enter their 22nd season as a founding member of the Coastal Plain League. The upcoming season for the Tobs will see an expanded community outreach effort, increased participation in helping the less fortunate, a Pettit Cup Championship team, and more exciting entertainment for the Wilson Community. We would like to dedicate each successful season to the Wilson Community, Coastal Plain League Organization, Host Families, Corporate Partners, and the Dedicated Fans throughout the city of Wilson. The Wilson Tobs have played host to over 100 alumni taken in the draft and have produced a dozen players who have gone on to play in the MLB, including Cy Young & MVP winner Justin Verlander. For more information on the Wilson Tobs, visit our website www.wilsontobs.com.
The Coastal Plain League is the nation's premier summer collegiate baseball league. Celebrating its 22nd season in 2018, the CPL features 16 teams playing in Georgia, North Carolina, South Carolina and Virginia. The CPL has had over 1,450 alumni drafted and 111 of those – including 2011 AL MVP and Cy Young winner Justin Verlander – make their Major League debut; while another notable alum – Russell Wilson – won Super Bowl XLVIII. For more information on the Coastal Plain League, please visit the league website at www.coastalplain.com and follow us via Facebook, Twitter, Instagram and Snapchat @CPLBaseball..
Contact:
Mike Bell
Phone:
(252) 291-8627