Updated April 17 2018
EDENTON, N.C.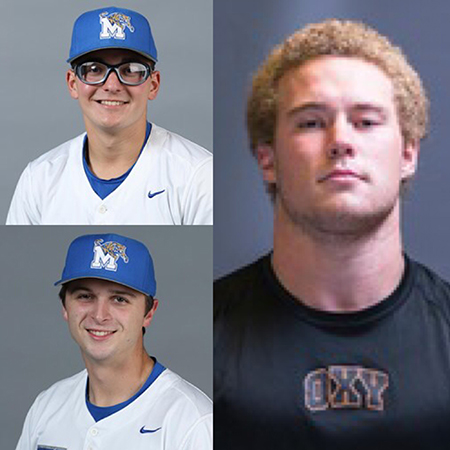 The Edenton Steamers have added three new players to the 2018 roster.
Danny Denz and Jackson South from the University of Memphis and Eamon McNeil from Occidental College will wear the teal and black this summer.
Coming from Memphis, Denz and South mark the fifth pair of teammates the Steamers have signed so far.
"Memphis is in a great conference with plenty of young talent. Fortunately enough, the Steamers were able to reach out and make connections to get some of these guys," said head coach Russ Burroughs.
Denz, a 5'9" 198-pound left-handed pitcher, has recorded 41 strikeouts through 39.1 innings.
"When you look at him, you don't think there's going to be a warrior in him. But, he's a competitor," Burroughs said.
"He's stud with a nasty hook. He'll be a weekend starter next year."
A sophomore from Carpentersville, IL, Denz dons a 3.89 earned average, holding opponents to a .207 average in eight starts.
His teammate, South, is also a pitcher. Transferring from Jackson State Community College, the 6'1" 195-pound junior is a medical red shirt this spring, but will be ready for action this summer.
Coach Burroughs looks forward to working with him and turning him into a bullpen threat.
"Once he gets the art of the sidearm down, he is going to be fantastic. He is learning how to use his body, and once he fully does, he will be a great setup guy," Burroughs said.
From Bartlett, TN, South struck out 30 batters in 35 games for his former school.
Coming from Occidental, McNeil will play in the outfield. Standing at 6'0", the junior was named all-conference last season and team offensive MVP after hitting .341 with five home runs.
The Portland, OR native already has four round-trippers this season through 27 games.
McNeil will be trekking to a familiar territory this summer. Though he is from the other side of the country, he has family living in the Edenton area.
"It's always great to have roots in Edenton. The town can definitely get behind a local guy. It's good for the city," Burroughs said.
Opening Day at Historic Hicks Field is on May 31st, as the Steamers host the Holly Springs Salamanders. Season tickets and ticket packages are on sale now and can be purchased by stopping by the Steamers office, or calling us at (252) 482-4080.
The Edenton Steamers are entering their 21st season as a member of the Coastal Plain League in 2018. Be sure to follow the Teal and Black on social media to stay up to date with all things Steamers.
You can find the team on Facebook @EdentonSteamers, Twitter @EdentonCPL, Instagram @edentonsteamers and Snapchat @edentonsteamers.
For more information visit edentonsteamers.com or call (252) 482-4080.
The Coastal Plain League is the nation's premier summer collegiate baseball league. Celebrating its 22nd season in 2018, the CPL features 16 teams playing in Georgia, North Carolina, South Carolina and Virginia. The CPL has had over 1,450 alumni drafted and 111 of those – including 2011 AL MVP and Cy Young winner Justin Verlander – make their Major League debut; while another notable alum – Russell Wilson – won Super Bowl XLVIII. For more information on the Coastal Plain League, please visit the league website at www.coastalplain.com and follow us via Facebook, Twitter, Instagram and Snapchat @CPLBaseball..
Contact:
PJ Potter
Phone:
(252) 482-4080