Updated August 16 2016
HAMPTON, VA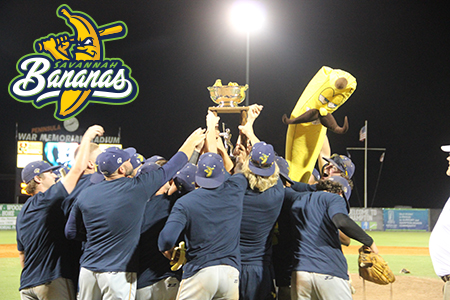 The Savannah Bananas beat the Peninsula Pilots 9-7 in Game Three of the Petitt Cup Championship to claim the 2016 Coastal Plain League Championship in their first season of existence.
After going hitless through six innings in game two, the Bananas wasted little time getting things going in game three as they scored one in the first inning and followed up with four more in the second inning. Included in that was back-to-back home runs by Jameson Hannah (Dallas Baptist) and Rylan Bannon (Xavier) to push their lead to 5-0 going into the bottom of the second.
The Pilots fought back however scoring three in the bottom half as Darian Carpenter (VCU), Joe Poduslenk (Seton Hall) and Franco Guardascione (Jacksonville) each drove in a run.
The game continued to be dominated for offense as each team put up more runs to push the score to 8-5 Savannah heading into the bottom of the eighth. The Pilots made one last push however plated two more to bring the score to a tense 8-7 Savannah lead heading into the ninth.
From here the Bananas gave themselves a little more breathing room as they scored one more in the top half before Ryan Flores (Richland College) finished off the save and the Championship win for the Bananas.
For more information on the Savannah Bananas Championship season and Championship merchandise please visit www.thesavannahbananas.com.
The Coastal Plain League is the nation's hottest summer collegiate baseball league. Celebrating its 20th season in 2016, the CPL features 16 teams playing in Georgia, North Carolina, South Carolina and Virginia. The CPL has had nearly 1,300 alumni drafted and 89 of those – including 2011 AL MVP and Cy Young winner Justin Verlander – make their Major League debut; while another notable alum – Russell Wilson – won Super Bowl XLVIII. For more information on the Coastal Plain League, please visit the league website at www.coastalplain.com and follow us via Twitter @CPLBaseball.
Contact:
Liz Bushaw
Phone:
(912) 712-2482