Updated July 03 2015
HOLLY SPRINGS, N.C.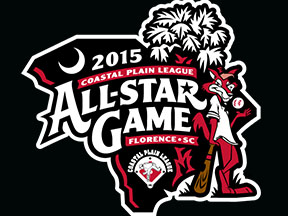 The Coastal Plain League announced today the rosters for the 2015 All-Star Game to be held in Florence, S.C. July 12-13 at Sparrow Stadium. This marks the 17th year the CPL has played an all-star game with last year's being won by the West 7-5 in Morehead City, N.C.
Players are separated by division and will be competing in front over a large contingency of scouts as well as fans. Since the game is being played in the Florence RedWolves home ballpark, the West All-Stars will be the home team while the East All-Stars will serve as the visitors.
For the second straight year, the CPL turned to its fans to select their favorite of five candidates for the East and West All-Star teams respectively. The fan response was phenomenal as over 150,000 votes were cast in a 24-hour period. In the East, Shaq Rolle (Holly Springs and North Greenville), Clark Scolamiero (Wilson and South Carolina), Michael Deese (Fayetteville and Citadel), Matt Collins (Morehead City and Texas A&M), Joseph Roberts (Wilmington and North Greenville) earned a spot on the final vote ballot. In the West, Justin Dattilo (Martinsville and Maryland Eastern Shore), Spencer Henderson (Forest City and UC Davis), Skyler Geissinger (Asheboro and SIU Edwardsville ), Michael McClellan (Gastonia and Columbus State), Christian Hollie (Martinsville and UT-Arlington) were named finalists.
In the East, Wilson's Clark Scolamiero was the leading vote getter with 69% of the total vote while the next closest vote getter was Shaquiile Rolle of Holly Springs with 26%. Meanwhile, in the West, Gastonia's Michael McClellan finished in the lead after receiving 50% of the vote, with Martinsville's Justin Dattilo taking second with 25%.
With their Fan Final Vote selections, Scolamiero and McClellan have each earned a spot as 2015 CPL All-Stars. Further, due to Madison Stokes (Lexington County and South Carolina) no longer being available to play, Asheboro third baseman Skyler Geissinger will take his place.
Also on the team are the players originally voted in by head coaches, broadcasters and media representatives from all 15 CPL teams. Of those, six were 919 Marketing CPL Players of the Week during the first half of the season: reserve East third basemen Nick Lustrino (Week 1), starting East pitcher Zach Prendergast (Week 2), reserve East outfielder Will Shepherd (Week 3), reserve West pitcher Ryan Hedrick (Week 3), starting East shortstop Nick Rotola (Week 4) and starting West third basemen Sammy Taormina (Week 5).
The East will be led offensively by the two most dominant hitters in the CPL all season, Brian Miller of Holly Springs and Chad Sedio of Edenton. Miller, a freshman out of North Carolina, leads the league in batting average (.415), on-base percentage (.492), and hits (44) while sitting third in stolen bases with 21. Meanwhile Sedio, a junior at Miami Ohio, leads in slugging percentage (.804), runs batted in (32), home runs (10), and total bases (74).
Conversely, the West is led by their pitching staff as Trevor Gay of HP-Thomasville currently holds the second best earned run average in all of the CPL at 0.47. The freshman out of Charlotte, also sits fourth in opposing batting average (.159) and fifth in innings pitched (38). Joining Bradley on the mound for the West will be Lexington County's Trevor Bradley, a junior at USC Aiken, who currently leads the league in strikeouts with 45 in only 25 2/3 innings pitched. The 6-0, 180 pound right-hander also sits second in the league in opponent's batting average (.143) having allowing only 12 hits all season long.
In addition to those players, the rosters are stocked full of talent elsewhere as well, including multiple other category leaders: Evan Rogers (31 runs scored), Ben Holland (10 doubles), Ryan Whitt (three triples), Connor Myers (24 stolen bases), Ryan Hedrick (five wins) and Tyle Keele (five saves).
Starting pitchers for the game will be Trevor Gay (HP-Thomasville) of Charlotte for the West, and Zach Prendergast (Edenton) of Seton Hall for the East.
In addition to the All-Star game, the Florence RedWolves and Coastal Plain League will host a fan fest with live entertainment and home run derby on the night of Sunday July 12. Home Run Derby contestants will be announced early next week.
The game will be broadcast live on the Time Warner SportsChannel as well as streamed live online at www.coastalplain.com
The East versus West All-Star Game will take place the following night, Monday July 13, the full rosters can be found below. Starters are noted by asterisks (*) and players that were named all-stars but are unable to attend are marked with a pound sign (#).
Coastal Plain League 2015 East All-Star Roster

| | | | | | | |
| --- | --- | --- | --- | --- | --- | --- |
| C | *GK Young | Petersburg | 6-0 | 215 | Coastal Carolina | So. |
| C | Chance Shepard | Edenton | 6-1 | 225 | NC State | Jr. |
| 1B | *Alex Destino | Wilmington | 6-2 | 230 | South Carolina | Fr. |
| 1B | Austin Upshaw | Fayetteville | 6-0 | 185 | Kennesaw State | Fr. |
| 2B | *Sam Foy | Wilmington | 6-0 | 190 | Davidson | Jr. |
| 2B | Mitch Spires | Petersburg | 6-2 | 190 | Winthrop | Fr. |
| SS | *Nick Rotola | Wilmington | 6-1 | 190 | Oral Roberts | Jr. |
| SS | Evan Rogers | Edenton | 5-11 | 165 | Mars Hill | Jr. |
| 3B | *Chad Sedio | Edenton | 6-2 | 205 | Miami Ohio | Jr. |
| 3B | Nick Lustrino | Peninsula | 6-0 | 185 | Old Dominion | Jr. |
| DH/UTL | *Luke Bolka | Morehead City | 6-0 | 205 | East Carolina | So. |
| DH/UTL | Stephen Wallace | Morehead City | 6-2 | 210 | Mount Olive | Jr. |
| DH/UTL | Collin Woody | Holly Springs | 6-1 | 205 | UNC-Greensboro | Jr. |
| OF | *Connor Myers | Peninsula | 5-11 | 180 | Old Dominion | Jr. |
| OF | *Brian Miller | Holly Springs | 6-0 | 180 | North Carolina | Fr. |
| OF | *Sky Overton | Fayetteville | 5-11 | 185 | Furman | So. |
| OF | Will Shepherd | Peninsula | 5-10 | 195 | Liberty | So. |
| OF | Demetre Taylor | Edenton | 6-4 | 230 | Eastern Illinois | RS-Jr. |
| OF | Clark Scolamiero | Wilson | 6-1 | 180 | South Carolina | Fr. |
| RHP | *Zach Prendergast | Edenton | 6-2 | 200 | Seton Hall | So. |
| RHP | Taylor Edens | Peninsula | 6-1 | 200 | Virginia Military | Jr. |
| RHP | Dylan Zarosky | Edenton | 5-11 | 215 | Houston Baptist | Jr. |
| LHP | Carson Teel | Wilson | 6-0 | 165 | Oklahoma State | Fr. |
| RHP | Matt Vogel | Wilmington | 6-1 | 185 | South Carolina | So. |
| LHP | Matt Outman | Peninsula | 6-3 | 210 | Norfolk State | RS-Jr. |
| RHP | David Bednar | Edenton | 6-1 | 220 | Lafayette College | So. |
| LHP | Zach Reid | Morehead City | 5-11 | 165 | Tennessee | Fr. |
| RHP | #Kodi Whitley | Fayetteville | 6-3 | 210 | Mount Olive | So. |
Coastal Plain League 2015 West All-Star Roster

| | | | | | | |
| --- | --- | --- | --- | --- | --- | --- |
| C | *J.D. Crowe | Lexington County | 6-0 | 210 | Francis Marion | RS-Jr. |
| C | Will Albertson | Asheboro | 5-11 | 195 | Catawba | Jr. |
| 1B | *Ben Holland | Florence | 6-3 | 245 | Lee | Jr. |
| 1B | Hank Morrison | Martinsville | 6-2 | 225 | Mercyhurst | Jr. |
| 2B | *Chaz Pal | Florence | 6-0 | 200 | USC Aiken | RS-Jr. |
| 2B | Blake Edwards | Gastonia | 5-10 | 180 | Columbus State | Jr. |
| SS | *Nicholas Lopez | HP-Thomasville | 5-10 | 170 | Creighton | So. |
| SS | Ryan Mincher | Asheboro | 6-0 | 185 | Pennsylvania | Jr. |
| 3B | *Sammy Taormina | Gastonia | 6-2 | 195 | Liberty | RS-So. |
| 3B | Skyler Geissinger | Asheboro | 6-2 | 195 | SIU Edwardsville | RS-Jr. |
| 3B | #Madison Stokes | Lexington County | 6-3 | 200 | South Carolina | Fr. |
| DH/UTL | *Jake Maziar | HP-Thomasville | 6-1 | 220 | Charleston | RS-So. |
| DH/UTL | Kyle Hamner | Asheboro | 6-1 | 205 | West Florida | Jr. |
| DH/UTL | Michael McClellan | Gastonia | 6-4 | 230 | Columbus State | Jr. |
| OF | *Chris Adams | Florence | 5-11 | 175 | Lee | Jr. |
| OF | *Jared Williams | Lexington County | 5-10 | 185 | South Carolina | Fr. |
| OF | *Ryan Whitt | Gastonia | 6-0 | 195 | King University | Jr. |
| OF | Taylor Allum | Gastonia | 6-3 | 210 | Kennesaw State | RS-Fr. |
| OF | Rayshelon Carolina | Forest City | 5-8 | 165 | Mars Hill | Jr. |
| OF | Sly Edwards | Lexington County | 5-10 | 185 | Charleston Southern | Jr. |
| RHP | *Trevor Gay | HP-Thomasville | 6-3 | 200 | Charlotte | Fr. |
| RHP | Mac Sceroler | HP-Thomasville | 6-4 | 200 | Southeastern Louisiana | Fr. |
| RHP | Avery Greer | Lexington County | 6-4 | 205 | North Georgia | RS-Fr. |
| RHP | Ryan Hedrick | HP-Thomasville | 5-11 | 185 | Presbyterian | Fr. |
| RHP | Trevor Bradley | Lexington County | 6-0 | 180 | USC Aiken | Jr. |
| RHP | Tyler Keele | Florence | 6-4 | 210 | Morehead State | Jr. |
| RHP | Logan Cook | Gastonia | 6-2 | 190 | UNC Pembroke | Jr. |
| RHP | Micah Wells | Asheboro | 6-1 | 180 | Charlotte | Jr. |
| RHP | #Taylor Widener | Lexington County | 6-1 | 200 | South Carolina | So. |
| RHP | #Luke Humphreys | Florence | 5-9 | 195 | Morehead State | So. |
Contact:
Shelby Hilliard
Phone:
919-852-1960