Updated July 01 2017
FAYETTEVILLE, N.C.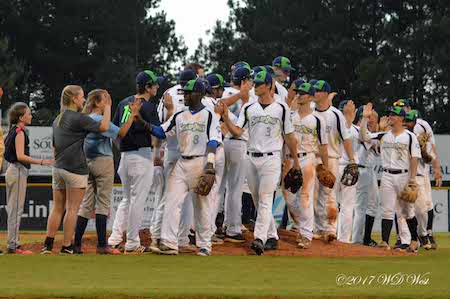 For the first time since 2011, Fayetteville is the home of a Coastal Plain League Division title winner. The SwampDogs (17-10) topped the Florence RedWolves (14-12) in game one 8-0 and in game two the SwampDogs topped Florence 12-0 to punch their ticket to the postseason for the first time since 2014.
In game 1, Joey Gonzalez (Stetson) made his first start of the season, going the distance in the 7-inning affair without allowing a run. Gonzalez allowed just 6 hits while striking out six to improve to 1-0.
The SwampDogs offense provided more than enough run support including home runs from Trent Franson (TCU) and Matt Morrow (Wright State). Jayson Newman (Cal State Northridge) contributed two RBIs, while Jameel Edney (Bethune-Cookman), and Andrew Henrickson (East Carolina) also plated SwampDog runs.
In game two Zach Neff (Austin Peay) (5-0) stole the show striking out fourteen, while the SwampDogs offense struck early ensuring a celebration would be had at The Swamp.
In the first inning the SwampDogs tagged Florence starter Garrett Wilson for 5 runs on 5 hits to ensure Saturday night would be one to remember in Fayetteville. Austin Edgette (Bloomsburg), Jay Robinson (New Orleans), Morrow, Newman, and Henrick all scoring.
Robinson would put an exclamation point on the night with a 3-run homerun, his second of the season, to provide a grand finale to the offensive fireworks.
The SwampDogs are now set to compete for the Petit Cup in August and try to sweep the East Division Titles by winning the second-half crown.
The SwampDogs head to Wilmington on Sunday before returning to the Swamp on Monday for their fireworks spectacular game against the Edenton Steamers. For all your SwampDogs news and updates please visit GoSwampDogs.com and follow us on Twitter @GoSwampDogs. The SwampDogs season is presented by Fayetteville Kia.
The Coastal Plain League is the nation's premier summer collegiate baseball league. Celebrating its 22nd season in 2018, the CPL features 16 teams playing in Georgia, North Carolina, South Carolina and Virginia. The CPL has had over 1,450 alumni drafted and 111 of those – including 2011 AL MVP and Cy Young winner Justin Verlander – make their Major League debut; while another notable alum – Russell Wilson – won Super Bowl XLVIII. For more information on the Coastal Plain League, please visit the league website at www.coastalplain.com and follow us via Facebook, Twitter, Instagram and Snapchat @CPLBaseball..
Contact:
Leo Blavin
Phone:
(910)-426-5900