Updated July 21 2017
FAYETTEVILLE, N.C.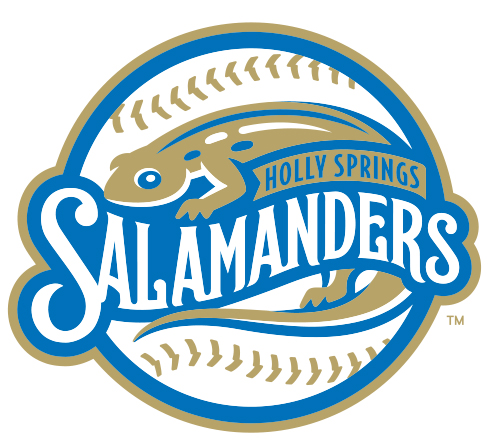 The Fayetteville SwampDogs survived a late comeback by the Holly Springs Salamanders and won 11-9 at J.P. Riddle Stadium on Thursday night.
The visiting Salamanders got on the board early, scoring three runs in the top of the second by way of RBI singles from Walker Imwalle (Sophomore, Davidson), Dalton Hoiles (Junior, Shippensburg), and Josh Hollander (Sophomore, Kent State). The lead was short-lived, however, as Fayetteville figured out Holly Springs starter Kyle Staats (Junior, VMI) in the bottom of the third. Jayson Newman (Junior, Cal State – Northridge) and Justin Hawkins (Sophomore, Clemson) each homered in the inning. Staats was replaced by Ryan Ross (Junior, East Carolina), who stifled the SwampDogs for several innings until the game-changing sixth inning.
Fayetteville would cross the plate eight times in the inning, scoring five (three earned) off Ross and three (none earned) against Phillip Sanderson (Freshman, Louisville). Hoiles walloped a pitch over the left field fence in the top of the seventh but that run was all the Salamanders could muster in response to the SwampDogs' outburst.
Sanderson kept the 'Dogs at bay for the rest of the game, and was solid overall, allowing only three hits and a walk in 2.1 innings while striking out four. The Salamanders had life left in them, and broke out in the top of the ninth. Hollander scored on a balk after reaching base with his third hit of the night, and Jacob Jaye (Junior, VMI) drove in Peyton Isaacson (Sophomore, Coastal Carolina) with an RBI single. Zach Tondi (Junior, James Madison) singled and Mark Colella (Junior, Seton Hill) followed that with a three-run shot to cut the deficit to two. In the end it was too little, too late for Holly Springs.
The Salamanders return home Friday evening to take on the Wilmington Sharks. First pitch is scheduled for 7:00 p.m. at Ting Stadium.
Contact:
Kyle Jensen
Phone:
(919) 249-7322