Updated July 06 2017
FAYETTEVILLE, N.C.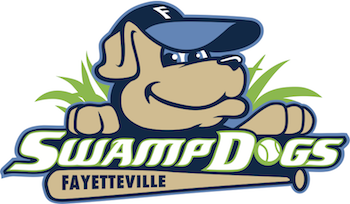 The Fayetteville SwampDogs (20-12) dropped their first game at Wilmington this season with the Sharks (17-16) taking their first win against the Dogs at Buck Hardee Field in 6 meetings by a score of 4-1.
Andrew Henrickson (East Carolina) scored on a Jayson Newman (Cal State Northridge) single to put the SwampDogs on the board in the first inning for the second straight night. History would repeat itself in more way than one of Thursday night as the SwampDogs would once again fail to add to their first inning run in the subsequent 8 innings.
Justin Dean (Lenoir-Rhyne) scored the Sharks first run to tie things up in the first on a Michael Sandle (South Alabama) double. Wilmington would tack on two more in the 2nd inning with Ward Coleman (New Hanover High School) and Dayton Dugas (Wichita State) both scoring to put the SwampDogs ahead for good.
The Sharks would tack on one more insurance run in the 6th inning thanks to Thatcher Coleman (Presbyterian) scoring on a Dean single.
Dallas Oliver (Florida A&M) made his SwampDogs debut dropping his first start to fall to (0-1). Jonathan Jahn (South Carolina) picked up his second win (2-3). Evan Brabrand (NC State) picked up his third save of the season as Wilmington moved above .500 for the first time this season.
The SwampDogs return to the Swamp on Friday for their Summer Spooktacular against the Wilmington Sharks. The gates will open at 6 with first pitch at 7:05. For all your SwampDogs news and updates please visit GoSwampDogs.com and follow us on Twitter @GoSwampDogs. The SwampDogs season is presented by Fayetteville Kia.
The Coastal Plain League is the nation's premier summer collegiate baseball league. Celebrating its 22nd season in 2018, the CPL features 16 teams playing in Georgia, North Carolina, South Carolina and Virginia. The CPL has had over 1,450 alumni drafted and 111 of those – including 2011 AL MVP and Cy Young winner Justin Verlander – make their Major League debut; while another notable alum – Russell Wilson – won Super Bowl XLVIII. For more information on the Coastal Plain League, please visit the league website at www.coastalplain.com and follow us via Facebook, Twitter, Instagram and Snapchat @CPLBaseball..
Contact:
Leo Blavin
Phone:
(910)-426-5900