Updated July 10 2017
HOLLY SPRINGS, N.C.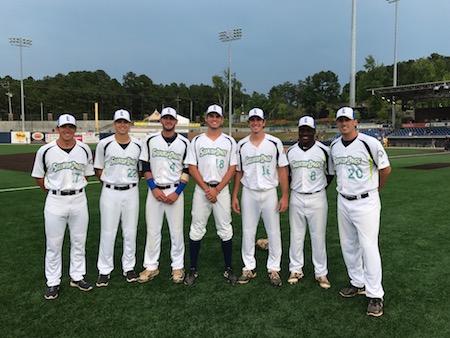 Monday's 2017 Coastal Plain League All-Star Game was televised and streamed to a national audience. The Fayetteville SwampDogs players and coaches took advantage of the showcase event as members of the East Division All-Star team at Ting Stadium in Holly Springs.
Griffin McLarty (College of Charleston) got the start for the East Division All-Stars and struck out two, while not allowing a hit in his one inning of work. In the bottom of the opening frame, Austin Edgette (Bloomsburg) would represent the first base runner of the game for either side after getting hit by a pitch. He would fall victim to a fielder's choice before Nick Podkul (Notre Dame) of the Morehead City Marlins put the East on top after one inning with a two-run home run, putting the SwampDogs' coached team ahead 2-0.
Zach Neff (Austin Peay) would take the mound in the third inning, sending the West Division down in order, as both SwampDogs pitchers didn't allow a batter to reach base in their combined two innings of work.
Austin Edgette made sure he would reach base safely in both of his plate appearances, flying down the first base line to reach on a dropped third strike in the bottom of the third inning with the East Division still leading 2-0.
Jay Robinson (New Orleans) entered the game in left field and recorded a pair of putouts to help preserve the East's lead. With the SwampDogs' lead team winning by a score of 2-1.
McLarty's no-hit inning with two strikeouts was enough to earn the East's starter Pitcher of the Game Honors as Griffin continues to rack up accolades in the Coastal Plain League.
The SwampDogs return to the Swamp next Friday, July 14 for Hoe-Down Throw-Down presented by Agri Supply of Lumberton against the Edenton Steamers. The gates will open at 6 with first pitch at 7:05. For all your SwampDogs news and updates please visit GoSwampDogs.com and follow us on Twitter @GoSwampDogs. The SwampDogs season is presented by Fayetteville Kia.
The Coastal Plain League is the nation's premier summer collegiate baseball league. Celebrating its 22nd season in 2018, the CPL features 16 teams playing in Georgia, North Carolina, South Carolina and Virginia. The CPL has had over 1,450 alumni drafted and 111 of those – including 2011 AL MVP and Cy Young winner Justin Verlander – make their Major League debut; while another notable alum – Russell Wilson – won Super Bowl XLVIII. For more information on the Coastal Plain League, please visit the league website at www.coastalplain.com and follow us via Facebook, Twitter, Instagram and Snapchat @CPLBaseball..
Contact:
Leo Blavin
Phone:
(910)-426-5900