Updated August 06 2017
FAYETTEVILLE, N.C.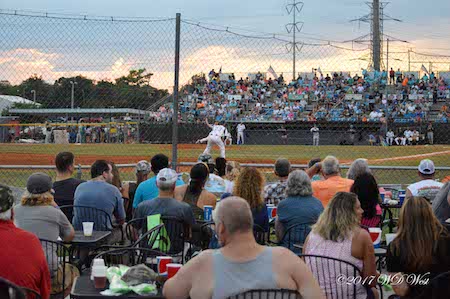 The Fayetteville SwampDogs (32-22) clinched a first-round home playoff game this coming Tuesday thanks to an assist from mother nature as their game against the Florence RedWolves (23-29) was canceled due to severe weather, while the Wilmington Sharks fell in Wilson against the Tobs 9-5. The SwampDogs are now assured a top two finish in the East Division ensuring the Swamp will host a playoff game on Tuesday, August 8th either against the Edenton Steamers or the Sharks.
The SwampDogs return to the Swamp on Monday, August 7 for the Teacher Appreciation Night against the Wilson Tobs. The gates will open at 6 with first pitch at 7:05. For all your SwampDogs news and updates please visit GoSwampDogs.com and follow us on Twitter @GoSwampDogs. The SwampDogs season is presented by Fayetteville Kia.
The Coastal Plain League is the nation's premier summer collegiate baseball league. Celebrating its 22nd season in 2018, the CPL features 16 teams playing in Georgia, North Carolina, South Carolina and Virginia. The CPL has had over 1,450 alumni drafted and 111 of those – including 2011 AL MVP and Cy Young winner Justin Verlander – make their Major League debut; while another notable alum – Russell Wilson – won Super Bowl XLVIII. For more information on the Coastal Plain League, please visit the league website at www.coastalplain.com and follow us via Facebook, Twitter, Instagram and Snapchat @CPLBaseball..
Contact:
Phone: