Updated July 19 2017
FAYETTEVILLE, N.C.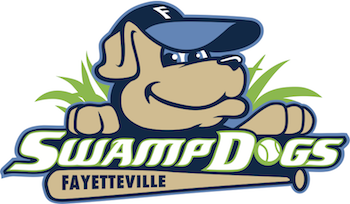 The Fayetteville SwampDogs (25-16) got back on track on Wednesday night topping the Florence RedWolves (20-18) for the third straight time in as many meetings.
Griffin McLarty (College of Charleston) got the start for Fayetteville and the All-Star Game starter tossed solid innings while striking out six and allowing just four earned runs.
McLarty exited prior to the start of the 6th inning, but not before the SwampDog bats put their right-handed ace in line for his team-leading 6th victory.
Down 5-1 entering the 5th inning the SwampDogs plated 5 in the inning beginning with a sacrifice fly into right field from the Fayetteville native Andrew Henrickson that scored Jameel Edney (Bethune-Cookman) cutting the deficit to three. Following a Jonathan Allen (San Francisco) infield single to load the bases Jose Rojas carried a ball over the right-centerfield wall for his first homer of the year, with the grand slam putting Fayetteville ahead 7-5.
The SwampDogs would add to their 2-run lead when Justin Hawkins (Clemson) sent a broken bat single into centerfield to score Edney's second run of the game and put Fayetteville ahead 8-5.
Evan Flohr (Michigan State) pitched 2.1 solid innings giving up just one run, before Zach Neff (Austin Peay) closed the door with 5 strikeouts to seal the SwampDogs 8-6 victory.
Griffin McLarty took the win to improve to (6-0) while Zach Neff picked up his first save of the season. Jack Piekos (Eastern Kentucky) took the loss dropping the left-hander to (3-3).
The SwampDogs return to the Swamp on Thursday, July 20 for Hope Mills Night and Military Family night against the Holly Springs Salamanders. The gates will open at 6 with first pitch at 7:05. For all your SwampDogs news and updates please visit GoSwampDogs.com and follow us on Twitter @GoSwampDogs. The SwampDogs season is presented by Fayetteville Kia.
The Coastal Plain League is the nation's premier summer collegiate baseball league. Celebrating its 22nd season in 2018, the CPL features 16 teams playing in Georgia, North Carolina, South Carolina and Virginia. The CPL has had over 1,450 alumni drafted and 111 of those – including 2011 AL MVP and Cy Young winner Justin Verlander – make their Major League debut; while another notable alum – Russell Wilson – won Super Bowl XLVIII. For more information on the Coastal Plain League, please visit the league website at www.coastalplain.com and follow us via Facebook, Twitter, Instagram and Snapchat @CPLBaseball..
Contact:
Leo Blavin
Phone:
(910)-426-5900