Updated June 24 2014
FAYETTEVILLE, N.C.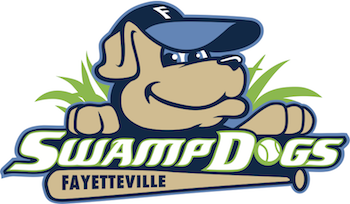 FAYETTEVILLE, N.C. - If losses tell you more about the character of a team than wins, then Tuesday's 2-0 loss to the USA Collegiate National Team spoke volumes. Even though the Dogs didn't come out on top of the scoreboard, the fans at J.P. Riddle Stadium left with a sense that the SwampDogs are a force to be reckoned with.
The Dogs used eight pitchers in the game, who limited Team USA to just six hits and two runs - one in the second inning off Rayne Raven, and one in the fourth off Jordy Farthing - while striking out seven and walking five.
The first run was scored when Christin Stewart doubled to lead off the second inning off Raven, then the next batter, Mark Mathias, doubled as well. The run in the fourth came when Farthing walked Mathias and Zack Collins back-to-back then gave up a single to Sheldon Neuse.
The SwampDogs would be held to just two hits offensively, one in the third by Jacob Whiting off of Jake Lemoine, and the other in the sixth by Chase Edwards off of A.J. Minter.
The winning pitcher in the game was Minter, and Raven was tagged with the loss. Dillon Tate came on to pitch the ninth inning and earn the save.
The SwampDogs hit the road Wednesday night to take on the Florence RedWolves, before returning home for a doubleheader against the Petersburg Generals starting at 6:05 p.m. at The Swamp on Thursday night. For tickets and more information, call the SwampDogs offices at 910-426-5900.
The Coastal Plain League is the nation's premier summer collegiate baseball league. Celebrating its 22nd season in 2018, the CPL features 16 teams playing in Georgia, North Carolina, South Carolina and Virginia. The CPL has had over 1,450 alumni drafted and 111 of those – including 2011 AL MVP and Cy Young winner Justin Verlander – make their Major League debut; while another notable alum – Russell Wilson – won Super Bowl XLVIII. For more information on the Coastal Plain League, please visit the league website at www.coastalplain.com and follow us via Facebook, Twitter, Instagram and Snapchat @CPLBaseball..
Contact:
Joe Vasile
Phone:
910-426-5900