Updated April 27 2018
FAYETTEVILLE, N.C.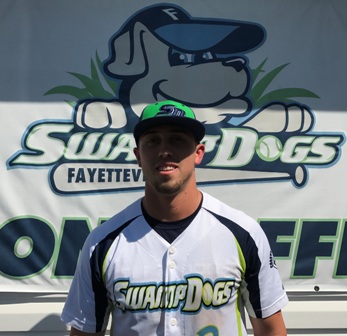 The Fayetteville SwampDogs are thrilled to announce the signing of infielder Trent Franson to the 2018 roster.
Franson will return to Fayetteville after a terrific summer with the SwampDogs in 2017. Starting 21 games at second and third base, the Houston, Texas native slashed .346/.441/.526, hit two home runs and stole three bases.
"Trent played well for us last year, so it was an easy decision to bring him back," said SwampDogs head coach Matt Hollod. "He also brings versatility to the lineup in that he can play multiple positions in the field."
A sophomore at San Jacinto College, Franson began his college career at the baseball powerhouse of Texas Christian University. After hitting .333 over two years but one season of eligibility for the Horned Frogs, he transferred to San Jacinto for the 2018 season. Batting from the right side of the plate, the 5-10, 185 lb. slugger has a .280 batting average with 3 home runs in 27 games. On November 17, Franson committed to Houston Baptist University, where he will continue his college career in 2019.
The SwampDogs are excited for Franson to return to The Swamp this summer. The season is just a couple months away, with play set to begin on Tuesday, May 29.
About the SwampDogs: The Fayetteville SwampDogs enter their 18th season playing in the Coastal Plain League in 2018. The SwampDogs are one of the most successful franchises in the league's history, boasting over 100 alumni taken in the draft, including eight players who have gone on to play in Major League Baseball including slugger Mark Reynolds and David Aardsma. For more information on the Fayetteville SwampDogs, visit the team website at www.goswampdogs.com and follow us on Twitter and Instagram @GoSwampDogs. Be sure to also like us on Facebook at Fayetteville SwampDogs Baseball.
The Coastal Plain League is the nation's premier summer collegiate baseball league. Celebrating its 22nd season in 2018, the CPL features 16 teams playing in Georgia, North Carolina, South Carolina and Virginia. The CPL has had over 1,450 alumni drafted and 111 of those – including 2011 AL MVP and Cy Young winner Justin Verlander – make their Major League debut; while another notable alum – Russell Wilson – won Super Bowl XLVIII. For more information on the Coastal Plain League, please visit the league website at www.coastalplain.com and follow us via Facebook, Twitter, Instagram and Snapchat @CPLBaseball..
Contact:
Jeremy Aagard
Phone:
910-426-5900