Updated January 02 2018
FAYETTEVILLE, NC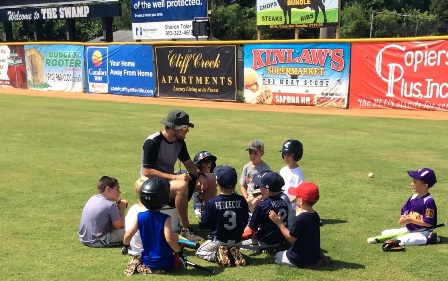 The Fayetteville SwampDogs are excited to continue to partner with South River EMC to provide youth baseball clinics to the Fayetteville area. Now in its 11th year, this partnership has provided the perfect summer experience for young baseball and softball players. The SwampDogs Kids Camp is a great place to learn the skills of the game from the people that know them best.
Join the SwampDogs players and the coaching staff for a day filled with baseball and fun. Campers must be between five and 13 years old. Once again, the SwampDogs will hold three one-day camps at The Swamp: Wednesday, June 20, Wednesday, July 18 and Wednesday, August 1. The camp starts at 9 a.m. with registration and drop-off beginning at 8 a.m. and runs until 1 p.m. In addition to the fun and excitement of working with the players and coaches, all campers will receive a free SwampDogs t-shirt, lunch and a ticket to that night's SwampDogs game.
The camp begins with a chance for all the campers to get their arms and legs loose. After stretching, campers will go from station to station learning the skills of the game from their counselors (the SwampDogs players and coaches).
"The ongoing partnership between the Fayetteville SwampDogs and South River EMC has proven to be one of mutual benefit and fun," said Manager of Member and Public Affairs Catherine O'Dell, South River EMC. "Our members get the benefit of sending their children to a top notch sports camp while having loads of fun! This camp and the associated scholarships are one more way South River EMC demonstrates our commitment to the communities where we work and live."
"We are pleased to once again be teaming with South River EMC for our 2018 instructional camps," said SwampDogs general manager Jeremy Aagard. "They truly share our philosophy of giving back to the children of our community and we are proud to be a partner with them. We have seen many campers grow every season and look forward to another summer of fun and instruction."
You can sign your son and/or daughter up now for one day, two days or all three camp dates. One camp day is just $50, two camp days is $90 or sign up for all three camp days for only $120. All costs are per camper, with group discounts available for 10 or more campers. Space is limited so make sure to reserve your spot today!
About the SwampDogs: The Fayetteville SwampDogs enter their 18th season playing in the Coastal Plain League in 2018. The SwampDogs are one of the most successful franchises in the league's history, boasting over 100 alumni taken in the draft, including eight players who have gone on to play in Major League Baseball including slugger Mark Reynolds and David Aardsma. For more information on the Fayetteville SwampDogs, visit the team website at GoSwampDogs.com and follow us on Twitter and Instagram @GoSwampDogs. Be sure to also like us on Facebook at Fayetteville SwampDogs Baseball.
The Coastal Plain League is the nation's premier summer collegiate baseball league. Celebrating its 22nd season in 2018, the CPL features 16 teams playing in Georgia, North Carolina, South Carolina and Virginia. The CPL has had over 1,450 alumni drafted and 111 of those – including 2011 AL MVP and Cy Young winner Justin Verlander – make their Major League debut; while another notable alum – Russell Wilson – won Super Bowl XLVIII. For more information on the Coastal Plain League, please visit the league website at www.coastalplain.com and follow us via Facebook, Twitter, Instagram and Snapchat @CPLBaseball..
Contact:
Jeremy Aagard
Phone:
910-426-5900