Updated July 23 2017
EDENTON, N.C.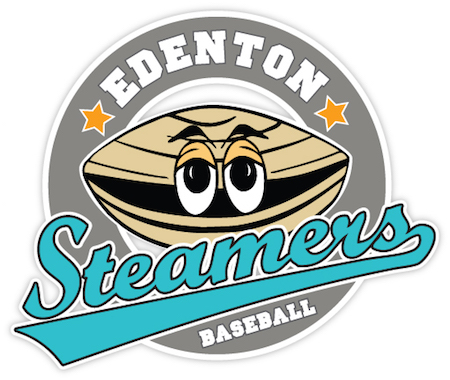 The Edenton Steamers (24-19, 7-8) got their first win in three games thanks to a shortened game against the Wilson Tobs (13-28, 4-9). Edenton won the game 9-5 in six innings.
The Clams jumped out to an early lead in the second on a James Battley RBI groundout. Billy Wilson followed Battley by reaching on an error and bringing home two more Steamer runs.
The Clams added five more runs in the fourth inning on a few more Wilson errors. Edenton also got RBI hits in the inning from Paul Rufo and James Battley. The Tobs produced six errors through the six innings that were played in the game.
Wilson answered back with two runs in the fourth and three runs in the fifth off of Cody Maw to bring the game to 9-5. This included the only home run of the game by Dawnoven Smith.
In the sixth, Cody Maw got into to a jam, but Sean Hughes came in to get a big strikeout with the bases loaded to preserve the lead.
Cody Maw worked 5.2 innings for Edenton and picked up the win, while Ted Stuka took the loss for the Tobs in the game.
The two sides began the seventh inning, but they did not finish with the score at 11-9 and the Tobs at the plate. Because of this, the score resorted back to the final completed inning in the sixth which was 9-5.
The Teal and Black will be back in action tomorrow at Historic Hicks Field against the Wilson Tobs for the second game of a home-and-home. First pitch is set for 7 p.m.
The Edenton Steamers are proudly celebrating their 20th anniversary season as a member of the Coastal Plain League in 2017. Be sure to follow the Teal and Black on social media to stay up to date with all things Steamers. You can find the team on Facebook @EdentonSteamers, Twitter @EdentonCPL, Instagram @edentonsteamers, and Snapchat @edentonsteamers. For more information visit edentonsteamers.com or call (252) 482-4080.
The Coastal Plain League is the nation's premier summer collegiate baseball league. Celebrating its 22nd season in 2018, the CPL features 16 teams playing in Georgia, North Carolina, South Carolina and Virginia. The CPL has had over 1,450 alumni drafted and 111 of those – including 2011 AL MVP and Cy Young winner Justin Verlander – make their Major League debut; while another notable alum – Russell Wilson – won Super Bowl XLVIII. For more information on the Coastal Plain League, please visit the league website at www.coastalplain.com and follow us via Facebook, Twitter, Instagram and Snapchat @CPLBaseball..
Contact:
Elijah Gonzalez
Phone:
(252)-482-4080