Updated February 22 2018
EDENTON, N.C.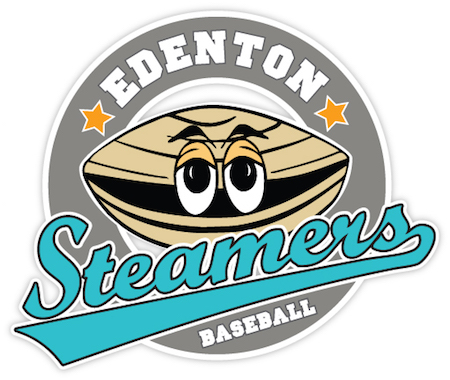 The Edenton Steamers are excited to announce the hiring of Reed Gamache and Matt Garlock as assistant coaches for the 2018 season under head coach Russ Burroughs.
Coach Gamache, a graduate of Binghamton University, recently played for the Brooklyn Cyclones and Columbia Fireflies in the New York Mets minor league system. A career .268 hitter as a professional player, Gamache was also the 2015-16 Male Athlete of the Year at Binghamton, where he hit at a .366 clip and smashed seven home runs over 54 games.
After talking with several people from Binghamton, Coach Burroughs felt that Gamache would be a great fit with the Steamers.
"Everyone was raving about Reed," Coach Burroughs said. "I knew five minutes into the first phone call with him that this was the guy I wanted."
Gamache comes in with an impressive pedigree. From being named a First Team All-Conference and All-Region player, to competing in the minor leagues, to having experience as an instructor; Coach Burroughs has high expectations for him.
"I think he's going to be a great role model this summer for our players. He knows what it's like to be a professional."
The other recent addition to the Steamers coaching staff, Matt Garlock, also has plenty of experience in baseball. Playing for Tallahassee Community College and Barry University, where he logged 23.2 innings pitched with 18 strikeouts, Garlock moved his way up to the professional leagues as well.
Garlock played alongside Coach Burroughs with the Taos Blizzard of the Pecos League and continued his career in the Mount Rainier League, suiting up for the Glacier Grizzlies. During his professional stint, Garlock fanning 38 hitters in 22 appearances.
"You just cannot like someone more. We had so much fun with him in the bullpen [with Taos]," Coach Burroughs said. "He knows the game, he knows stats extremely well and how baseball is supposed to be."
Gamache will be helping mostly with the hitters and Garlock with the pitchers. While those are their primary jobs, Coach Burroughs sees both of his assistants doing much more.
"I want them to be able to relate to our players every day. If they have an issue on or off the field, I want our players trust them and help turn them into great young men," Coach Burroughs said.
Opening Day at Historic Hicks Field is on May 31st, as the Steamers host the Holly Springs Salamanders. Season tickets and ticket packages are on sale now and can be purchased by stopping by the Steamers office, or calling us at (252) 482-4080.
The Edenton Steamers are entering their 21st season as a member of the Coastal Plain League in 2018. Be sure to follow the Teal and Black on social media to stay up to date with all things Steamers. You can find the team on Facebook @EdentonSteamers, Twitter @EdentonCPL, Instagram @edentonsteamers, and Snapchat @edentonsteamers. For more information visit edentonsteamers.com or call (252) 482-4080.
The Coastal Plain League is the nation's premier summer collegiate baseball league. Celebrating its 22nd season in 2018, the CPL features 16 teams playing in Georgia, North Carolina, South Carolina and Virginia. The CPL has had over 1,450 alumni drafted and 111 of those – including 2011 AL MVP and Cy Young winner Justin Verlander – make their Major League debut; while another notable alum – Russell Wilson – won Super Bowl XLVIII. For more information on the Coastal Plain League, please visit the league website at www.coastalplain.com and follow us via Facebook, Twitter, Instagram and Snapchat @CPLBaseball..
Contact:
PJ Potter
Phone:
252-482-4080