Updated April 23 2018
EDENTON, N.C.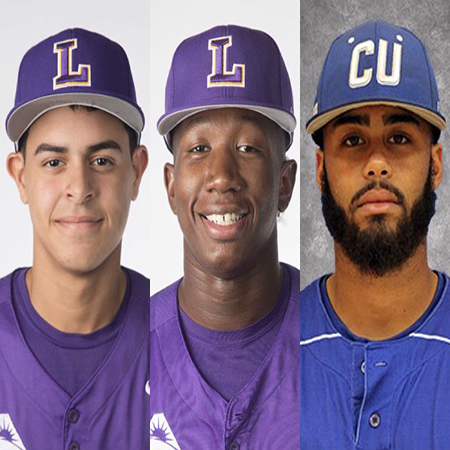 The Edenton Steamers announce the newest additions to the 2018 roster.
Josh Martinez and Von Watson from Lipscomb University and Anthony Jefferson from Chowan University will all play in the outfield for Edenton this summer.
Martinez and Watson are now the sixth pair of teammates to sign with the Steamers.
"Lipscomb holds a very special place in my heart. It's a great program where everyone is family," said head coach Russ Burroughs, a 2009 graduate from Lipscomb.
"You cannot ask for a better coaching staff from top to bottom. They care about their players a lot and embrace the family concept."
Martinez, a 5'11" 174-pound sophomore, is projected to start for Coach Burroughs to start the year.
"Josh will be our centerfielder. He brings maturity and leadership to the outfield, where he'll likely be the quarterback out there," Burroughs said.
Hailing from Caguas, Puerto Rico, Martinez has gone deep three times this spring, including four doubles in 27 starts.
His teammate, Watson, suffered an injury on opening day to begin 2018, but will be healthy to play this summer.
Selected in the 29th round in the 2015 MLB Draft by the Philadelphia Phillies, the 6'2" 208-pound junior from Potts Camp, MS will hold a key role with the Steamers.
"Von adds power, speed and athleticism. He is going to be a special player. His future is bright," Burroughs said.
"He's going to be an anchor in the middle of our lineup."
Jefferson comes from Chowan, one of the nearby schools close to Edenton.
"It's really good to have someone from a local college come here. He'll add depth to an already stellar outfield that we have," Burroughs said.
Transferring from Cecil Community College, the 6'0" redshirt junior from Bridgeville, DE holds a .283 batting average through 34 games with 20 runs batted in and 18 stolen bases.
"He'll bring a lot of speed to the table," Burroughs said.
Inching closer to the summer season, the Steamers outfield has gotten even deeper.
Opening Day at Historic Hicks Field is on May 31st, as the Steamers host the Holly Springs Salamanders. Season tickets and ticket packages are on sale now and can be purchased by stopping by the Steamers office, or calling us at (252) 482-4080.
The Edenton Steamers are entering their 21st season as a member of the Coastal Plain League in 2018. Be sure to follow the Teal and Black on social media to stay up to date with all things Steamers.
You can find the team on Facebook @EdentonSteamers, Twitter @EdentonCPL, Instagram @edentonsteamers and Snapchat @edentonsteamers.
For more information visit edentonsteamers.com or call (252) 482-4080.
The Coastal Plain League is the nation's premier summer collegiate baseball league. Celebrating its 22nd season in 2018, the CPL features 16 teams playing in Georgia, North Carolina, South Carolina and Virginia. The CPL has had over 1,450 alumni drafted and 111 of those – including 2011 AL MVP and Cy Young winner Justin Verlander – make their Major League debut; while another notable alum – Russell Wilson – won Super Bowl XLVIII. For more information on the Coastal Plain League, please visit the league website at www.coastalplain.com and follow us via Facebook, Twitter, Instagram and Snapchat @CPLBaseball..
Contact:
PJ Potter
Phone:
(252) 482-4080