Updated March 19 2018
EDENTON, N.C.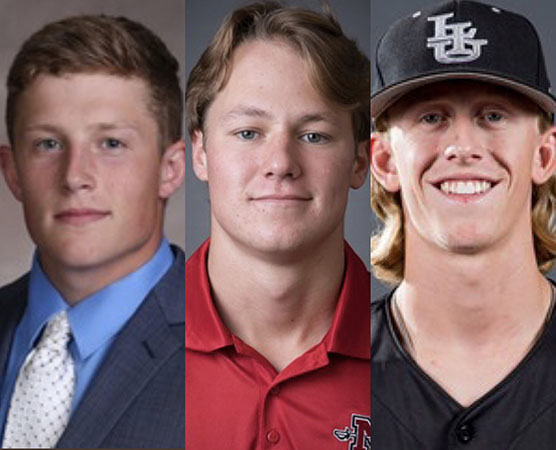 The Edenton Steamers have announced a trio of infield additions to the 2018 roster.
Rich Ciufo (Brown University), Will Ethridge (Nicholls State University) and Anthony Warneke (LIU Brooklyn) will play vital roles up the middle for Edenton's infield.
Ciufo, a 5'11" 195-pound sophomore, is off to a hot start for the Bears this season.
The Medford, NY native has roped four doubles and a home run through 11 games. Hitting at a .318 clip, Ciufo is currently on a four-game hitting streak.
"He is from an Ivy League school, so he's obviously a smart player and good player," said head coach Russ Burroughs.
"I think he's going to bring a lot of leadership for the middle infield."
Coach Burroughs expects Ciufo to be in the starting lineup every day for the Steamers.
"You can plug him in any position. He'll never ask for a day off," Burroughs said.
Adding more depth to the roster is Will Ethridge.
A freshman from Baton Rouge, LA, Ethridge was a highly-touted prospect coming into Nicholls State.
Standing at 5'10" 170 pounds, he was a first team utility player in the Louisiana area, breaking his high school record for best batting average in a season.
Ethridge has yet to see time with Nicholls State due to a minor setback, but will be back in action soon.
Coach Burroughs says he competes with a chip on his shoulder and as a player with not much experience at the college level, he has a 'time to prove to the world my abilities' type of demeanor.
"He's young. He's hungry and we'll see how the spring plays out for him," Burroughs said.
Hitting .393 and .328 in his two years at San Diego City College, Anthony Warneke has adjusted to Division I competition rather well at LIU Brooklyn.
Batting .281 with two home runs and 12 runs batted in through 18 games, the junior from Colorado adds a lot to the Steamers team.
"He's another guy that can play all the infield positions. He's going to add maturity to the roster as well," Coach Burroughs said.
At 6'3" 160 pounds, Warneke comes in with size on top of experience.
All three will contribute daily for Edenton this summer. It's just a matter of who clicks with who.
"They're going to be revolving doors," Burroughs said. "We just have to see who gels the best together."
Opening Day at Historic Hicks Field is on May 31st, as the Steamers host the Holly Springs Salamanders. Season tickets and ticket packages are on sale now and can be purchased by stopping by the Steamers office, or calling us at (252) 482-4080.
The Edenton Steamers are entering their 21st season as a member of the Coastal Plain League in 2018. Be sure to follow the Teal and Black on social media to stay up to date with all things Steamers.
You can find the team on Facebook @EdentonSteamers, Twitter @EdentonCPL, Instagram @edentonsteamers and Snapchat @edentonsteamers.
For more information visit edentonsteamers.com or call (252) 482-4080.
The Coastal Plain League is the nation's premier summer collegiate baseball league. Celebrating its 22nd season in 2018, the CPL features 16 teams playing in Georgia, North Carolina, South Carolina and Virginia. The CPL has had over 1,450 alumni drafted and 111 of those – including 2011 AL MVP and Cy Young winner Justin Verlander – make their Major League debut; while another notable alum – Russell Wilson – won Super Bowl XLVIII. For more information on the Coastal Plain League, please visit the league website at www.coastalplain.com and follow us via Facebook, Twitter, Instagram and Snapchat @CPLBaseball..
Contact:
PJ Potter
Phone:
(252) 482-4080