Updated June 29 2017
LEXINGTON COUNTY, SC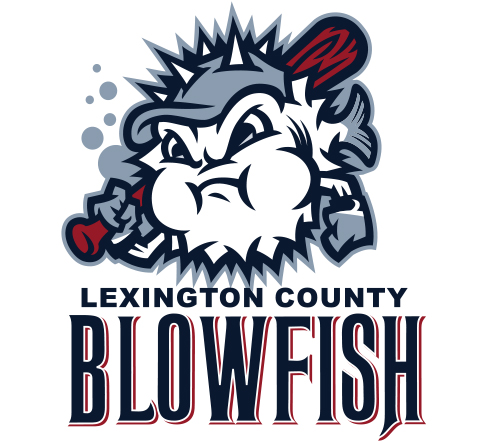 After a tough loss on the road in High Point-Thomasville Wednesday night where the Blowfish lost a game only smacking two hits, Lexington County set their sights on the Asheboro Copperheads at the Fish Tank.
Lexington County basically led wire to wire but surrendered two runs in the eighth and ninth innings to give up the lead and lost in ten innings 5-4.
The Blowfish got off to a fast start in the bottom of the second inning.
After Dom Cuoci (St. Joseph's) reached on an error, Drew Ellis (Mt. Olive University) launched a towering two run home run over the right field to give the Fish a 2-0 lead. Marshawn Taylor (Grambling State) added a run for the Blowfish in the inning with an RBI single right up the middle to extend the Blowfish lead to 3.
Asheboro fought right back for two runs in the top of the third. Clark Brinkman (Creighton) smacked a two run single to left center to cut the Blowfish lead to one.
Lexington County added a run in the fifth when Ellis smacked a single that plated Jared Williams (USC-Lancaster) to re-extend their lead to two runs again.
But Asheboro went on a warpath in the eighth and ninth innings. The Copperheads plated a run in the eighth to cut the Fish lead to one and in the ninth Clark Brinkman (Creighton) slapped a ball past Hogan at first base to plate the tying run in the ninth.
Lexington County had two on with one out in the bottom of the ninth and were unable to score so they greeted their first extra inning affair of 2017.
Asheboro wasted no time after a Caleb Webster (UNC-Greensboro) leadoff double, Alex Balter (Tennessee-Wesleyan) gave the Snakes their first lead on an RBI single in the top of the tenth.
Lexington County went down in order to finish out the game and fell 5-4 in tough fashion at home. Tomorrow night they cap off the first half on the road in Savannah. Pregame on z93.1 FM The Lake begins at 6:45 and first pitch from Grayson Stadium is slated for 7:05.
The Coastal Plain League is the nation's premier summer collegiate baseball league. Celebrating its 22nd season in 2018, the CPL features 16 teams playing in Georgia, North Carolina, South Carolina and Virginia. The CPL has had over 1,450 alumni drafted and 111 of those – including 2011 AL MVP and Cy Young winner Justin Verlander – make their Major League debut; while another notable alum – Russell Wilson – won Super Bowl XLVIII. For more information on the Coastal Plain League, please visit the league website at www.coastalplain.com and follow us via Facebook, Twitter, Instagram and Snapchat @CPLBaseball..
Contact:
Brian Principe
Phone:
803-254-3474