Updated November 17 2017
WILMINGTON, N.C.
Sharks New Head Coach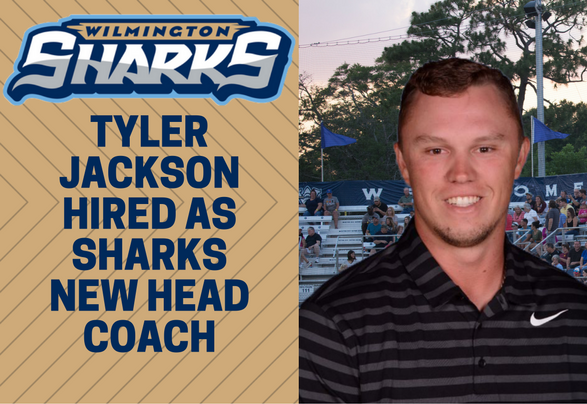 After three years under the guidance of Scott Wingo, the Wilmington Sharks turn the reigns of the organization over to Tyler Jackson. The College of Charleston alum is currently the hitting coach for North Greenville University in his third year. Jackson coached alongside Wingo before the former Sharks Head Coach moved to Jacksonville University this season.
After just two seasons at NGU, the Crusaders batting average has jumped from 0.236 to 0.307 under Tyler Jackson. The Bishopville, South Carolina native spent his college days, first at Spartanburg Methodist in 2011, before transferring to the College of Charleston. In the summer of 2011, Jackson started 51 games for the Columbia Blowfish, now Lexington County, in the Coastal Plain League. That summer, he hit 0.274 with 7 home runs and 31 runs batted in.
Wilmington has made the Petit Cup Playoffs in each of the last three seasons under Scott Wingo, including a run to the Petitt Cup Finals last year. "I've picked Scott's brain a lot the last couple of weeks," said Jackson. Wingo and Tyler Jackson coached together at North Greenville for the last two seasons.
"We want to play to win and have fun doing it this coming season. I know Scott liked to have fun and keep things loose in the locker room and I want to approach this summer in a similar way," said Jackson. Despite the 2018 summer being the first for Jackson in a head-coaching role, the North Greenville University Hitting Coach said he is ready for the challenge and hopes to lead the Sharks to its first Petit Cup Title since 1999.
The two things Coach Jackson said he was excited for this season, the beach and seeing a packed Shark Tank every night. Coach Jackson also expects to see a couple of returners this season from last year's East Division Championship squad.
The Coastal Plain League is the nation's premier summer collegiate baseball league. Celebrating its 22nd season in 2018, the CPL features 16 teams playing in Georgia, North Carolina, South Carolina and Virginia. The CPL has had over 1,450 alumni drafted and 111 of those – including 2011 AL MVP and Cy Young winner Justin Verlander – make their Major League debut; while another notable alum – Russell Wilson – won Super Bowl XLVIII. For more information on the Coastal Plain League, please visit the league website at www.coastalplain.com and follow us via Facebook, Twitter, Instagram and Snapchat @CPLBaseball..
Contact:
Sam Rubinoff
Phone:
910-343-5621