Updated April 09 2018
WILMINGTON, N.C.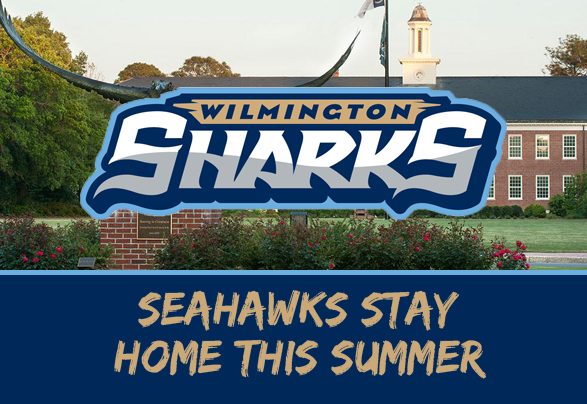 Why leave for the summer when you can stay right at home and play in Wilmington? Well, that is exactly the mindset for UNCW's Zack Bridges, Jackson Meadows and Noah Liles. The trio of young bats will take their talents from Brooks Field to The Shark Tank.
Zack Bridges joins Sharks returner Danny Wondrack as the second catcher on Wilmington's roster. The sophomore catcher was born in Wilmington but raised in Benson, North Carolina. Bridges' parents, grandparents and his brother Noah have all attended UNC-Wilmington. The Seahawks catchers has made just four appearances but has shown power in his bat. In his freshmen season at Brunswick CC, Bridges hit .313 with four home runs.
Another sophomore from UNCW, Jackson Meadows figures to play a major role in the Sharks lineup this summer. So far this season for the Seahawks, the Lexington, North Carolina native is hitting .278 with three doubles and three RBI. Meadows most recent RBI helped UNCW walk-off yesterday afternoon in a 4-3 win over Wofford.
The third Seahawk staying home this summer is outfielder Noah Liles. The six-foot freshman is already making an impact in his first season in Wilmington. Liles is hitting .273 for UNCW and has made 12 starts, most recently in the 4-3 win over Wofford. Yesterday, Liles was 2-3 and started in right field for the Seahawks.
Bridges, Meadows and Liles replace four current Seahawks who made appearances for the Sharks last summer. Breydan Gorham and Luke Gesell both were key pieces to the Sharks rotation in 2017. Meanwhile, Mason Berne and Kep Brown both provided power to the Sharks lineup early in the season.
The Sharks next roster announcement is Thursday, April 19th.
The Coastal Plain League is the nation's premier summer collegiate baseball league. Celebrating its 22nd season in 2018, the CPL features 16 teams playing in Georgia, North Carolina, South Carolina and Virginia. The CPL has had over 1,450 alumni drafted and 111 of those – including 2011 AL MVP and Cy Young winner Justin Verlander – make their Major League debut; while another notable alum – Russell Wilson – won Super Bowl XLVIII. For more information on the Coastal Plain League, please visit the league website at www.coastalplain.com and follow us via Facebook, Twitter, Instagram and Snapchat @CPLBaseball..
Contact:
Sam Rubinoff
Phone:
910-343-5621