Updated September 01 2017
HOLLY SPRINGS, N.C.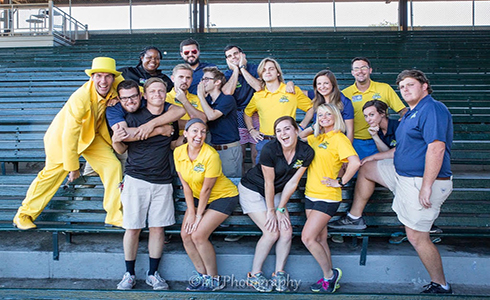 The Coastal Plain League announced today that the Savannah Bananas (picture courtesy MT Photography) have been selected as the 2017 CPL Organization of the Year. This was the team's second straight year to win this award.
"Congratulations to Jesse, Emily, Jared, and the entire staff for the Savannah Bananas on an outstanding sophomore season," said CPL COO/Commissioner Justin Sellers. "After a fantastic first year in 2016, they set out to make this season even more special and didn't disappoint. To be able to sellout every regular season home game is unparalleled; but to continue to introduce new ideas and raise the bar; and to keep that momentum going year-round is what has the community in Savannah rocking for their Bananas. I know their staff is already working on 2018's game plan, and if their first two years are any example of the fun we all can expect, I think everyone will be excited to see what 2018 has in store."
Savannah was chosen after collecting surveys, on every facet of an organization from game-day operations to overall hospitality and community involvement, from team owners, general managers, head coaches, umpires, players and league officials. Other teams in contention were the Forest City Owls, Lexington County Blowfish and Wilmington Sharks.
"Winning this award for a second straight year is truly an honor," said Bananas owner Jesse Cole. "It's a testament to our amazing staff and the incredible fans in Savannah."
Those fans could not get enough of the Bananas, as the organization became the first CPL team to sellout every game in a season and reach the 100,000 mark in a year; finishing the season with 108,498 fans across 26 home games for an average of 4,173. It's the atmosphere that the Bananas and their fans create however that truly makes the organization special.
"I believe the atmosphere at Grayson Stadium is the best atmosphere in all of college summer baseball," said Cole. "Selling out every game with 4,000+ fans a night is pretty special, but it's the energy the fans bring every night that creates the best home field advantage in the country."
Helping improve that atmosphere in 2017 was the addition of the Stadium Club down the left-field line, that served as a place for fans to entertain guests in an even more unique environment than what Grayson Stadium already offered. The Club featured a rotating menu of local restaurants each night, private bar including the team's signature Savannah Banana beer from Service Brewing and cocktails from Ghost Coast Distillery. All the while providing some of the best views in the entire ballpark.
"The ABR Stadium Club had been a dream for us since the beginning," said Team President Jared Orton who managed this project. "It was a way for us to add an upscale amenity to Grayson Stadium while maintaining the integrity of the ballpark. Once we sold out all of the reserved seating in 2016, it was the perfect chance for us to work with the City of Savannah to give the fans something new and exciting. The response we received was tremendous."

The fun didn't stop when fans left the ballpark either, and certainly wasn't restricted to only those in the area that could make it to a game in person. The Bananas online presence reached over 1.1 million views on their video views alone, and this does not count a number of mentions on national broadcasts such as SportsCenter and other ESPN platforms.
"The name of our company is Fans First Entertainment," said Cole. "We go where our fans want us to go and we've realized that they want entertainment year round. To achieve this, we understand we need to focus on our outreach with our media. This is why we brought on an amazing videographer in Ben Sheffield. Our focus in this area will grow in the years to come."
Another area the team continues to grow in is their work with non-profits within the community of Savannah. After raising an impressive $41,000 in 2016, the staff - led by Daniel Mackerty and Patrick Briody - set out to surpass these numbers in 2017, and they succeeding in a big way finishing with $79,184 raised for 50 non-profits.
After winning the 2016 Petitt Cup Championship in the organization's inaugural season, the Bananas came into 2017 looking to repeat but fell just short losing to the Gastonia Grizzlies in the West Division Championship Series. From the fans in the stands to the fans 2,000 miles away, the Bananas found a way to entertain each and every one of them, all while keeping focused on their efforts in the community and producing a talented team on the field.
"I believe 100% it's our relentless focus on the fans and our culture," noted Cole. "That's what Fans First is all about. We don't focus on the short term or get caught up in things that don't matter. We focus on people and we constantly ask what's the perfect experience for the fans? We understand we aren't there yet and we've got a lot of work to do, but it's this constant pursuit and belief in Fans First that drives us."
Team owners Jesse and Emily Cole both acknowledge none of this could be done without the great support of the city of Savannah as well as the Bananas staff which includes: Jared Orton, Marie Gentry, Sarah Olsen, Lizzy O'Connell, Liz Bushaw, Jonathan Wood, Mitch Torres, Daniel Mackerty, Keke Coles, Berry Aldridge, Ben Sheffield, Patrick Briody and Will Swisher.
"We want to thank our people, the Bananas Staff for their tireless work year round," said Cole. "We also want to thank the fans and the league for the honor, but most importantly for allowing us to do what we love every day."
The Coastal Plain League is the nation's premier summer collegiate baseball league. Set to begin its 22nd season in 2018, the CPL features 16 teams playing in Georgia, North Carolina, South Carolina and Virginia. The CPL has had over 1,400 alumni drafted and 108 of those – including 2011 AL MVP and Cy Young winner Justin Verlander – make their Major League debut; while another notable alum – Russell Wilson – won Super Bowl XLVIII. For more information on the Coastal Plain League, please visit the league website at www.coastalplain.com and follow us via Twitter @CPLBaseball.
Contact:
Shelby Hilliard
Phone:
919-852-1960