Updated June 02 2017
SAVANNAH, G.A.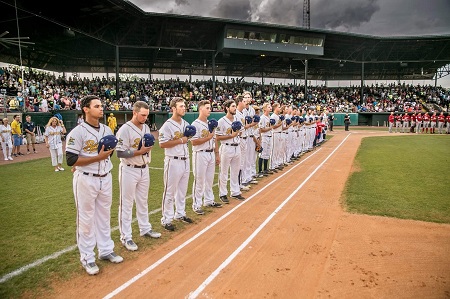 A record crowd of 4,338 welcomed the Savannah Bananas for the home opener against the Florence Redwolves. In a battle against former Bananas assistant coach, Travis Graves, the Bananas fell 7-4.
The threat of rain didn't keep the Bananas fans away, as they packed into Grayson Stadium for the first time since game one of the 2016 championship series.
Florence got on the board in the first inning with a RBI single by Masen Hibbeler (SS Texas) and a RBI double by Zach Jacobs (1B FMU).
The Bananas got going in the bottom of the fourth with two runs as the rain started. Despite the weather, fans stuck it out to watch the home team rally.
The Redwolves failed to reach home through the top of the sixth inning. LJ Talley (1B Georgia) stole home to bring the Bananas to 3 in the bottom of the sixth. A RBI single by Max McDougald (2B Wofford) tied it up at 4-4.
RBI singles by Mason Meadows (C Georgia) and Cornell Nixon (2B Eastern Kentucky) put the Redwolves back up 6-4. They score one more run in the top of the ninth and take the win with a final score of 7-4.
The Bananas utilized seven from their pitching staff, with Braxton Webb (LHP Grayson College) starting the game and returning player Elliot Forde (RHP Misericordia) pitching 3 1/3 innings of relief.
The Bananas play at home to another sold out crowd tomorrow night, taking on the Lexington County Blowfish. The next home game with available tickets is Monday, June 5th. A championship ring ceremony will be held to celebrate head coach Sean West and the 2016 team. Less than 400 tickets remain. Tickets can be purchased at thesavannahbananas.com or by calling 912-712-2482.
The Coastal Plain League is the nation's premier summer collegiate baseball league. Celebrating its 22nd season in 2018, the CPL features 16 teams playing in Georgia, North Carolina, South Carolina and Virginia. The CPL has had over 1,450 alumni drafted and 111 of those – including 2011 AL MVP and Cy Young winner Justin Verlander – make their Major League debut; while another notable alum – Russell Wilson – won Super Bowl XLVIII. For more information on the Coastal Plain League, please visit the league website at www.coastalplain.com and follow us via Facebook, Twitter, Instagram and Snapchat @CPLBaseball..
Contact:
Liz Bushaw
Phone:
912-712-2482