Updated June 06 2016
SAVANNAH, GA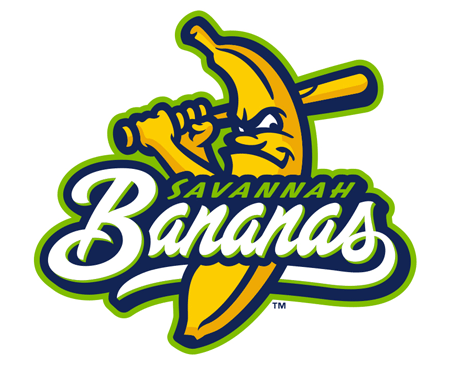 SAVANNAH BANANAS BUZZ GOING GLOBAL
After less than a week, the Savannah Bananas have become not just a national phenomenon but are creating world-wide buzz among sports fans.
The Bananas logo was featured on multiple national news outlets including ESPN SportsCenter, MLB Network, Yahoo Sports!, CBS Sports as well as major metropolitan papers including the New York Daily News. (SportsCenter clip)
"We've had merchandise orders from 45 of the 50 states since Thursday night's launch," said team President Jared Orton. "We've also had orders from as far away as Australia, Germany, Scotland and England. We've had to bring in extra staff to fill the rush of orders."
The only states the Bananas haven't received orders from are Delaware, Alaska, New Mexico and Nebraska. However, Orton noted, "We've received multiple tweets, Facebook posts and Instagram posts from fans in those states telling us they will be ordering soon."

Savannah native and Oakland A's All-Star Josh Reddick tweeted smiley face emojis to the team Tuesday night.
"We're sending out a couple of tee-shirts to Josh today to make sure while he's at Spring Training with the A's he can show off his home-town team," said team owner Jesse Cole. "We're proud of helping create some terrific publicity for the city of Savannah."
Locally, fans were lined up Friday morning when the team's office opened to place their orders. There has been a steady stream of fans in the office since, enough that the team has had to place rush re-orders for four different tee shirt styles to fill orders. Even though hats won't be available until early April, the team has taken hat pre-orders from hundreds of fans already.
Fans purchasing a 5-game, 10-game or season membership receive a free Bananas tee-shirt and a season long 10% discount on merchandise at the team store throughout the season. To order ticket packages, click here or call 912-712-2482.
The Coastal Plain League is the nation's premier summer collegiate baseball league. Celebrating its 22nd season in 2018, the CPL features 16 teams playing in Georgia, North Carolina, South Carolina and Virginia. The CPL has had over 1,450 alumni drafted and 111 of those – including 2011 AL MVP and Cy Young winner Justin Verlander – make their Major League debut; while another notable alum – Russell Wilson – won Super Bowl XLVIII. For more information on the Coastal Plain League, please visit the league website at www.coastalplain.com and follow us via Facebook, Twitter, Instagram and Snapchat @CPLBaseball..
Contact:
Phone: