Updated January 09 2018
SAVANNAH, GA.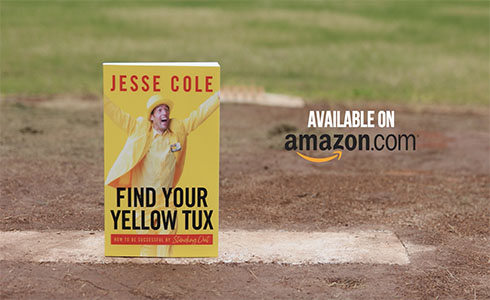 In Find Your Yellow Tux – How to be Successful by Standing Out, Jesse Cole, in-demand speaker and baseball ringleader, shares how you can achieve amazing things by doing the unexpected. Using examples from his life and the lives of his heroes—P. T. Barnum, Walt Disney, and MLB owner Bill Veeck—Cole shows how to reinvigorate your goals, reignite your passions, and excel in business and beyond.
Using tools from the book, Cole's gained national attention with the Savannah Bananas and Gastonia Grizzlies and been featured on MSNBC, CNN and multiple times on ESPN. In Find Your Yellow Tux, Cole shares the secrets on how to stand out in business and in life.
"While the economy is thriving, we have a serious problem with personal fulfillment," said Cole. "Studies have shown that nearly 70% of people aren't engaged at work and people are leaving their jobs at a record rate. It's because they are following someone else's dream. They are not creating their own path. They are following the status quo and living the 9-5. Companies are failing just as much with 50% going out of business within five years according to the Bureau of Labor Statistics.
Cole believes that most people and business are stuck following the normal path. Find Your Yellow Tux shares how to create attention and stand out in any industry by taking whatever's normal and doing the exact opposite.
Dan Miller, the author of NY Times Best Selling Book, 48 Days to the Work You Love, shared in the Foreword: Find Your Yellow Tux will give you a behind-the-scenes perspective on what it takes to stand out in a noisy world and incite energy and enthusiasm that will be the envy of any rivals. You'll be reminded that "normal" is not a desirable position. Being your unique self can open doors of opportunity, joy, and fulfillment that others miss. You'll see ways to stand out in any industry or profession.
Find Your Yellow Tux has been met with favorable reviews and high applause from early readers. Joe Calloway, the author of Be the Best At What Matters Most is calling the book "an entertaining textbook on success."
The book is available on Amazon and you can learn more about Jesse Cole by visiting www.findyouryellowtux.com or on Twitter @YellowTuxJesse
Jesse Cole is the founder of Fans First Entertainment and owner of two multimillion-dollar teams, the Gastonia Grizzlies and the Savannah Bananas of the Coastal Plain League. He's been featured on MSNBC and as a keynote speaker all over the country, promoting his motto "If it's normal, do the exact opposite." He's been named Business Person of the Year, Entrepreneur of the Year and his teams have been named CPL Organization of the Year multiple times. He's also the host of the Business Done Differently podcast.
About the Coastal Plain League:
The Coastal Plain League is the nation's premier summer collegiate baseball league. Heading into its 22nd season in 2018, the CPL features 16 teams playing in Georgia, North Carolina, South Carolina and Virginia. The CPL has had over 1,450 alumni drafted and 109 alums – including 2017 ALCS MVP, 2017 World Series champion, 2011 AL MVP and Cy Young award winner Justin Verlander, as well as 2017 NLCS MVP Chris Taylor – make their Major League debut. For more information on the Coastal Plain League, please visit the league website at CoastalPlain.com, and be sure to follow us on Facebook, Twitter, Instagram and Sanpchat @CPLBaseball.
Contact:
Jesse Cole
Phone:
912-712-2482