Updated July 06 2017
HOLLY SPRINGS, N.C.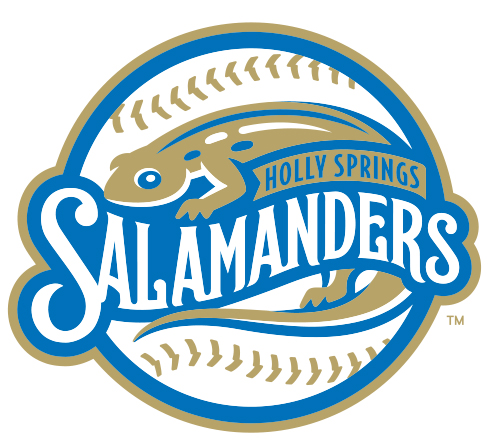 The Holly Springs Salamanders came away with a 2-1 victory Wednesday night over the Fayetteville SwampDogs, pushing the Salamanders record to 2-1 for the second half of the CPL season. Fayetteville, who won the first half of the CPL season, fell to 2-1 after the loss.
The Salamanders used three pitchers in tonight's victory. Cam Colmore (Sophomore, East Carolina University) got the start on the mound and pitched four innings. In his four innings of work, Colmore allowed one run on two hits while walking four and striking out three. Colmore would not earn a decision on the night, as the 'Manders turned to the bullpen in the fifth inning, brining in Ben Gross (Junior, Princeton). Gross earned the win, improving his record to 2-1 on the season. Through four complete innings of work Gross didn't allow a run, while giving up only one hit, walking two and striking out three.
Holly Springs turned to the bullpen for the third and final time in the ninth as Michael Hope (Sophomore, Shippensburg) took the mound looking for his first save on the season. After getting two quick outs, the SwampDogs threatened with the bases loaded after Cory Wood (Freshman, Coastal Carolina) made a diving stop to keep a run from scoring. Despite loading the bases, the SwampDogs where unable to capitalize and tie the game or take the lead. Hope allowed one hit in the inning while also hitting one batter and walking another.
In a game that saw a combined eleven hits, the Salamanders were able to produce seven hits when it mattered to take the 2-1 victory. In addition to securing the final out of the game, Trip Shelton (Junior, UNC-Greensboro) went 3-3 on the night with one RBI. Zach Piazza (Sophomore, Limestone) reached base every time he went to the plate tonight. Piazza went 1-1 with an RBI while additionally being hit by a pitch and walked twice. Four 'Manders tallied one hit on the night. In addition to Piazza, Josh Hollander (Sophomore, Kent State) recorded a hit, while Cory Wood hit a double and Adam Sisk (Junior, James Madison) smacked a triple.
The Salamanders return to action tomorrow night on the road against the Wilson Tobs. First pitch is set for 7:05 at Fleming Stadium.
The Coastal Plain League is the nation's premier summer collegiate baseball league. Celebrating its 22nd season in 2018, the CPL features 16 teams playing in Georgia, North Carolina, South Carolina and Virginia. The CPL has had over 1,450 alumni drafted and 111 of those – including 2011 AL MVP and Cy Young winner Justin Verlander – make their Major League debut; while another notable alum – Russell Wilson – won Super Bowl XLVIII. For more information on the Coastal Plain League, please visit the league website at www.coastalplain.com and follow us via Facebook, Twitter, Instagram and Snapchat @CPLBaseball..
Contact:
Cody Critcher
Phone:
(919) 249-7322