Updated August 06 2017
FAYETTEVILLE, N.C.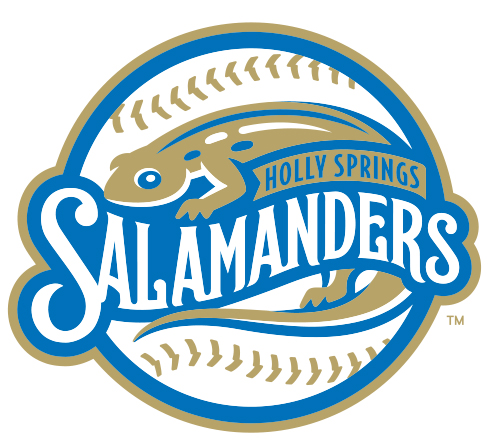 The Holly Springs Salamanders bounced back against the Fayetteville SwampDogs with an 8-5 win on Saturday night at J.P. Riddle Stadium.
Holly Springs starting pitcher Chris Rodriguez (Redshirt-Junior, Wright State) tossed three-plus innings, allowing five runs (three earned) on eight hits while walking one and striking out three. Phillip Sanderson (Freshman, Louisville) and Ryan Lefner (Sophomore, Saint Louis) had stellar relief outings, combining to allow only two baserunners over six scoreless innings while striking out nine batters.
In the bottom of the first inning, Jayson Newman (Sophomore, Cal St. Northridge) hit an RBI single to right field that forced a bad throw to home and gave Fayetteville an early 1-0 lead. Three batters later, Matt Morrow (Junior, Wright State) scored on a bases-loaded HBP to double the lead. In the top of the second, Dominick Cammarata (Sophomore, Charlotte) hit a solo home run to left field that brought the Salamanders within one. Cammarata would score again on a sacrifice fly by Mitchell Stumpo (Sophomore, Guilford) in the top of the fourth inning to tie the score 2-2. The SwampDogs pulled ahead with three runs in the bottom half, thanks to an RBI base-hit from Austin Edgette (Junior, Bloomsburg) and a two-run single from Newman.
The Salamanders responded by exploding for six runs in the top of the sixth. Zach Tondi (Junior, James Madison) scored on a bases-loaded walk, and Tripp Shelton (Junior, UNCG) hit a two-RBI single that tied the game at 5-5. Adam Sisk (Junior, James Madison) drove in the go-ahead run on a fielder's choice, and came around to score the seventh run on a single from Dalton Hoiles (Junior, Shippensburg). Hoiles trotted home on an RBI double from Jacob Jaye (Junior, VMI). When the inning was all set and done, Holly Springs led 8-5, and the scoring was finished for the night.
The Salamanders return to Ting Stadium for their final home game of the regular season on Sunday evening. First pitch against the Martinsville Mustangs is slated for 5:40 p.m.
Contact:
Michael Lisson
Phone:
(919) 249-7322