Updated July 20 2017
HOLLY SPRINGS, N.C.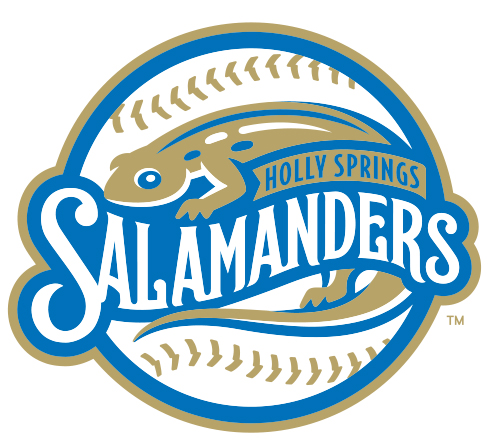 The Holly Springs Salamanders fell to the Peninsula Pilots 13-1 on Wednesday night at Ting Stadium.
Salamanders starting pitcher Jake Isbell (Freshman, Pitt CC) surrendered nine runs (five earned) on seven hits in three innings, walking none and striking out two. Kent Klyman (Freshman, NC State), Josh Little (Senior, NC Central) and Rabon Martin (Junior, Louisville) all made appearances out of the bullpen. Little's appearance marked his Salamanders debut.
The first inning featured several errors, but also several runs. Pilot right-fielder Jonathan Embry (Redshirt-Freshman, Liberty) opened the scoring with a two-run homer. Three Salamander errors in the frame resulted in three more Peninsula runs. Two Pilot baserunners came around to score on a throwing error. Connor Stephens (Sophomore, Jacksonville) hit an RBI single the next at-bat to push the lead to 5-0 before Holly Springs even got the chance to bat. In the bottom half, Zach Tondi (Junior, James Madison) pulled one run back and drove home collegiate teammate Adam Sisk (Junior, James Madison) after reaching first base via Pilot error. After the wild first inning, the Pilots led 5-1.
Peninsula continued to pile it on in the third inning, adding four runs to their total. Conor Davis (Freshman, Auburn) and Stephens hit back-to-back RBI singles, which were followed by a sacrifice fly from Nathan Eaton (Sophomore, VMI). In the sixth inning, Sam Griggs (Junior, Southern Indiana) blasted a two-run home run. Just a few batters later, a fifth error by Holly Springs allowed another run to score that increased the Pilot lead to 12-1. An RBI double by Eaton in the ninth inning tacked on one more run for Peninsula.
The Salamanders travel to Fayetteville on Thursday before kicking off their weekend at home against Wilmington on Friday. First pitch on Friday from Ting Stadium at North Main Athletic Complex is slated for 7:00pm.
Contact:
Michael Lisson
Phone:
(919) 249-7322