Updated June 21 2015
CARY, N.C.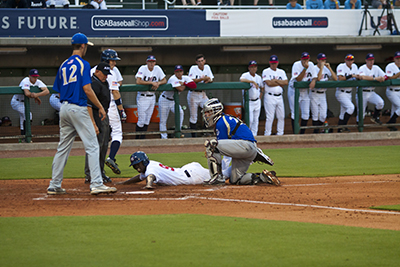 The Holly Springs Salamanders (picture credited to Pat Grecinger) made their shortest road trip of the season as they visited the USA Collegiate National Team down the road in Cary, N.C. The Salamanders kept the score close for most of the game, but in the end, Team USA won the eight inning game by a score of 3-1.
Corey Ray gave USA an early lead in the bottom of the first with his walk and stolen base. He later scored on a double. In the bottom of the second, Anfernee Grier's triple scored two more making the score 3-0. Xyruse Martinez hit an RBI single to score Collin Woody in the sixth, but the Salamanders were held scoreless the rest of the game as team USA won the contest 3-1 in its first game of the season.
In the international tiebreaker ninth inning, the Salamanders scored three runs in the top of the inning and USA only scored one in the bottom. The international tiebreaker has each team put runners at first and second base with no outs and try to score as many runs as possible.
Robert Tyler got the win for Team USA pitching three innings while allowing one hit and no runs. Jordan Bissette took the loss going two innings of three hits and three runs. Ryan Hendrix got the save with a perfect last inning.
Holly Springs returns home on Sunday afternoon at 3:00 for a doubleheader against the Martinsville Mustangs. Fans can purchase tickets online at salamandersbaseball.com.
The Coastal Plain League is the nation's hottest summer collegiate baseball league. Celebrating its 19th season in 2015, the CPL features 15 teams playing in North Carolina, South Carolina and Virginia. The CPL gives college players the chance to refine their skills with the use of wooden bats. Players are housed with local host families for the summer and past experiences have been very positive for both players and hosts. The CPL has had over 1,200 alumni drafted and 79 of those – including 2011 AL MVP and Cy Young winner Justin Verlander – make their Major League debut; while another notable alum - Russell Wilson - won Super Bowl XLVIII. For more information on the Coastal Plain League, please visit the league website at www.coastalplain.com and follow us via Twitter @CPLBaseball.
Contact:
Harrison Huntley
Phone:
919-249-7322