Updated June 24 2017
MARTINSVILLE, VA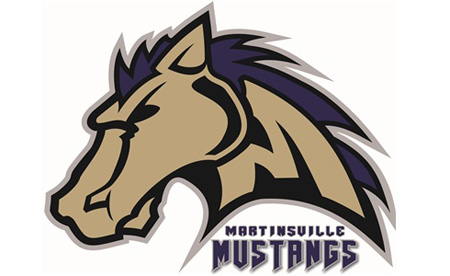 Martinsville welcomed in the High Point-Thomasville HiToms for a Friday night matchup at Hooker Field. The HiToms carried a 1-0 lead into the eighth inning before the Mustangs rallied behind a huge pinch-hit from Ryan Shinn to win a tightly contested 2-1 game.

Alex Kubera got the start for Martinsville and he kept the Mustangs in the ballgame. The pitcher from Le Moyne worked around a couple of early errors to keep the HiToms off the scoreboard.

The Mustangs offense was having their struggles against Jason Goe who was dealing for High Point-Thomasville. Goe worked his way out of trouble a couple times in the second and fourth inning.

In the fifth inning with a man on, the HiToms No. 3 hitter Callahan Moltzan hit a ball into right-center that Zach Weatherford chased down and caught on a dive to keep the game scoreless.

The HiToms finally got on the board in the sixth after Kubera walked Mason McClellan and allowed a bunt single to Cody Grosse. That brought up Tyler Niemann who dumped a single into left, loading the bases.

Martinsville stuck with their starter as Sam Teague stood in for High Point-Thomasville. With two strikes, Kubera got Teague to swing at a wild pitch but the runner scored from third. However Kubera limited the damage by inducing a ground ball to end the inning.

Kubera allowed one run on seven hits while striking out six. He lowered his ERA to 3.00 but earned a no-decision. Kubera, who didn't get much run support in his first two outings battled through another start that saw the offense struggle.

"I just wanted to go out there and keep throwing zeros and keep throwing strikes and sooner or later they'll get some hits. I try not to think about that," Kubera said in regards to the run support.

Josh Vincent came out of the bullpen for Martinsville in the seventh and retired the side in order.

Long Beach State freshman, Connor Riley made his Martinsville debut in the eighth and got some help from his defense. After a walk to start the inning, Mustangs catcher Marshall Gei caught the runner trying to steal for the first out.

Riley walked the next hitter and allowed a single to Grosse, putting two on with one out. That brought up Niemann who singled to center but Weatherford came up firing. His throw to the plate was in time and Gei applied a quick tag on the runner to keep it a 1-0 game.

Mustangs Head Coach Danny Higginbotham talked about the addition of Weatherford to an already talented outfield.

"He brings brings speed and he covers a lot of ground. That gives your pitchers confidence in that they can throw the ball where they want," he said.

In the bottom of the eighth, the HiToms went to Jake Wyrick. Davis Sims got things started with a single and then Lee Sponseller worked a walk after a lengthy at bat.

Emilio Abreu bounced into a fielder's choice and Martinsville had runners on the corners with two outs. Zach Michalski was next and he was able to get on with a walk to load the bases. With Ryan Perkins due up next, Higginbotham went to his bench and Ryan Shinn got the opportunity.

"Maybe the lefty-lefty matchup wasn't the best for Perkins in that situation," Higginbotham said. "When they stuck with the lefty we wanted to go with Shinn."

With a 3-1 count, Shinn got a fastball that he lined over the head of the right fielder Moltzan and two runs scored.

"The dugout and the place erupted as it should," Higginbotham said. "The guys were locked in from pitch one and you have to commend them for staying in it."

Shinn who is transferring to Kentucky in the fall talked about coming off the bench in a clutch situation.

"I was just trying to get a strike and do something with it. He threw me a fastball over the plate on 3-1 and I put a good swing on it," he said.

Mike Stephens came in for the save in the ninth. After a leadoff walk to Ryne Stanley, Stephens struck out Jordan Howard but interference was called on Howard as the pinch runner, Randy Norris was in motion.

With two outs, Stephens struck out the next hitter and picked up his fifth save of the year. Riley (1-0) got the win and Wyrick (0-1) took the loss.

Martinsville who is now 11-8 and on a four game win streak will try to keep things rolling heading into next week. After the game Higginbotham talked about something he learned from Dave Dawson who is the Head Coach at Arkansas Tech.

"I'll quote Arkansas Tech for what I learned with 212," he said. "You have to stay even. Do your best to win every game and move onto the next one."

Martinsville will travel to Cary, N.C. tomorrow for a exhibition game against Team USA.

"We've been excited since we saw it," Higginbotham said. "We're going to get there early tomorrow. We're going to soak it in for those guys because they deserve it."
Game time is at 6:00 and can be heard on the Coastal Plain League Webpass beginning at 5:45.
The Coastal Plain League is the nation's premier summer collegiate baseball league. Celebrating its 22nd season in 2018, the CPL features 16 teams playing in Georgia, North Carolina, South Carolina and Virginia. The CPL has had over 1,450 alumni drafted and 111 of those – including 2011 AL MVP and Cy Young winner Justin Verlander – make their Major League debut; while another notable alum – Russell Wilson – won Super Bowl XLVIII. For more information on the Coastal Plain League, please visit the league website at www.coastalplain.com and follow us via Facebook, Twitter, Instagram and Snapchat @CPLBaseball..
Contact:
Nathan Loprete
Phone:
540-424-4426