Updated June 07 2017
HAMPTON, VA.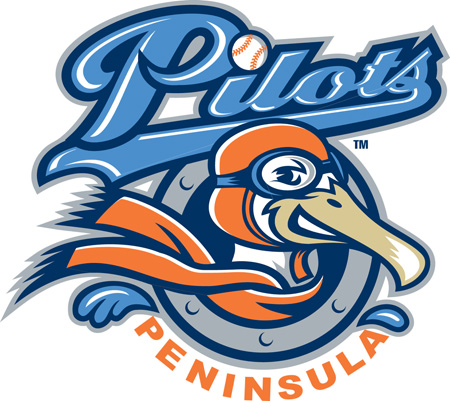 Kieton Rivers and Jonathan Embry propelled the Pilots to a 6-4 comeback victory over the Wilson Tobs on Wednesday night at War Memorial Stadium.
Trailing 4-2 in the bottom of the eighth, the Pilots scored four runs thanks two two-run doubles by Rivers and Embry to retake the lead. Tad Ratliff (Lenoir Rhyne) pitched a scoreless ninth for his third save.
Three straight singles by Logan Augustine (Lincoln Memorial), Drew Delsignore (Mercyhurst) and Matt Schneider (Mercyhurst) loaded the bases with no outs. Rivers delivered a 1-2 pitch to left-center to score both Augustine and Delsignore to tie the game at four apiece. With two runners in scoring position and no outs, the Pilots looked primed to clinch the winning hit but the Tobs quickly retired the next two batters. With two outs, Embry, who leads the team in RBIs, delivered a clutch go-ahead two-run double to right-center to score both Schneider and Rivers for the 6-4 lead. The comeback victory gave Colt Harlow (James Madison) the victory moving to 2-0 on the season. The left-hander gave up two unearned runs and struck out six in three innings of work.
Wilson wasted no time in finding the scoreboard as they plated a run in the first inning. Tanner Johnson (Denison)) took Jackson Wark's (St. Louis) first pitch in to centerfield for a single. After a sacrifice bunt attempt was botched by the Pilots' defense, Alex King (St. Louis) delivered a single to left field to score Johnson. Wark rebounded to get a double play and a ground out to end the threat.
Peninsula immediately responded with a RBI single by Augustine in the bottom half of the inning. Jack Owens (Virginia Tech) reached on a one-out single. Chris Lehane (Jacksonville) followed with a hit by pitch. After a wild pitch moved the runners into scoring position, Augustine hit a ground ball to first base to score Owens.
After trading zeroes for the next three innings, the Tobs pieced together a quick two-out rally to retake the lead. With two outs, Brady Lloyd (East Carolina) drew a four-pitch walk. Johnson followed with a double that just sneaked past Zac Ching (VCU) at third base which allowed Lloyd to score the go-ahead run.
Wilson tacked on another run in the sixth inning thanks to two Pilots miscues to take a 3-1 lead.
Peninsula cut the lead to one in the seventh inning. Rivers reached on an error and stole both second and third base before scoring on Embry's RBI single to center.
Wark pitched five solid innings, giving up two runs (one earned) on five hits and struck out six. Hank Simpson (UNC-Pembroke) was charged with the loss, giving up four runs in 1 1/3 innings of work.
After an off day on Thursday, the Pilots will travel to Edenton to face the Steamers on Friday night. The team will return home on Saturday to face the Morehead City Marlins for Superhero Night! Come out to the ballpark early and watch the Pilots buddy up with Challenger Little League for an exhibition game! Wear your favorite superhero costume and you could win a prize!
For more information regarding the season, please visit www.peninsulapilots.com. For up to the minute details on Pilots Baseball be sure to "Like" us on Facebook and follow us on Twitter and Instagram @PeninsulaPilots. Also, be sure to download the Peninsula Pilots mobile app available for both iPhone and Android users! Use the #PilotsNation to spread the word about the Pilots!
The Coastal Plain League is the nation's premier summer collegiate baseball league. Celebrating its 22nd season in 2018, the CPL features 16 teams playing in Georgia, North Carolina, South Carolina and Virginia. The CPL has had over 1,450 alumni drafted and 111 of those – including 2011 AL MVP and Cy Young winner Justin Verlander – make their Major League debut; while another notable alum – Russell Wilson – won Super Bowl XLVIII. For more information on the Coastal Plain League, please visit the league website at www.coastalplain.com and follow us via Facebook, Twitter, Instagram and Snapchat @CPLBaseball..
Contact:
Taylor Sherrill
Phone:
757-245-2222