Updated August 03 2017
SAVANNAH, G.A.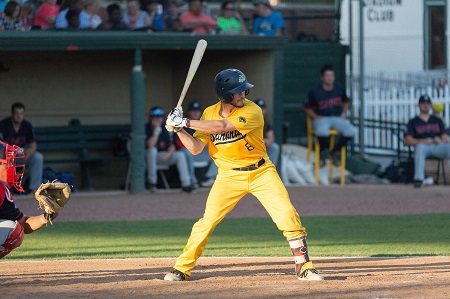 Matt Pita (VMI) racked up six RBIs as the Bananas smashed the Asheboro Copperheads 12-6 in front of Grayson Stadium's 24th straight sold out crowd.
The game picked up in the third inning, with the Copperheads plating the first run for the lead. The Bananas came back swinging when Brandon Purcell (GA College) singled and stole second. Utah Jones (UNC) walked, then Logan Mattix (GA College) singled, advancing all three. With the bases loaded, Pita hit a bomb over the left field fence for a grand slam.
The rollercoaster continued in the fourth as Asheboro's Bobby Schuman (San Diego Christian) knocked one down the right field line for a two-run RBI double. This was all Bananas' starting pitcher Spencer Hynes (Grayson JC) allowed.
In the bottom of the fourth Pita came up to the plate with the bases loaded once again. This time, he drove a single to right field to bring in Jake Howard for his fifth RBI of the night.
Howard added on one more run to bring the Bananas' lead up to 6-3 in the fifth inning.
The Copperheads attempted to rally with a single RBI in the seventh. The Bananas responded in full force in the bottom half, beginning with Purcell blasting a two-RBI double. Jones then singled before Mattix smacked the next double, plating Purcell and Jones. Pita then drove in his sixth RBI with a single. Christian Hollie (UTA) blasted a double for the final run, doubling the Bananas' score from 6 to 12 in a single inning.
The Copperheads added two more in the ninth, but weren't able to overcome the deficit.
Mat Clark got his first win of the season, coming in in relief in the 5th inning, striking out four and only allowing two hits over three innings.
The Bananas have now won 15 of their last 17 home appearances. They are back at Grayson for the 25th sell out of the season on Saturday night against Florence Redwolves, with hopes of clinching a spot in the Coastal Plain League playoffs. Tickets for a potential playoff game are available to be reserved now at www.TheSavannahBananas.com.
The Coastal Plain League is the nation's premier summer collegiate baseball league. Celebrating its 22nd season in 2018, the CPL features 16 teams playing in Georgia, North Carolina, South Carolina and Virginia. The CPL has had over 1,450 alumni drafted and 111 of those – including 2011 AL MVP and Cy Young winner Justin Verlander – make their Major League debut; while another notable alum – Russell Wilson – won Super Bowl XLVIII. For more information on the Coastal Plain League, please visit the league website at www.coastalplain.com and follow us via Facebook, Twitter, Instagram and Snapchat @CPLBaseball..
Contact:
Laura Skulman
Phone:
912-712-2482