Updated June 23 2017
HAMPTON, VA.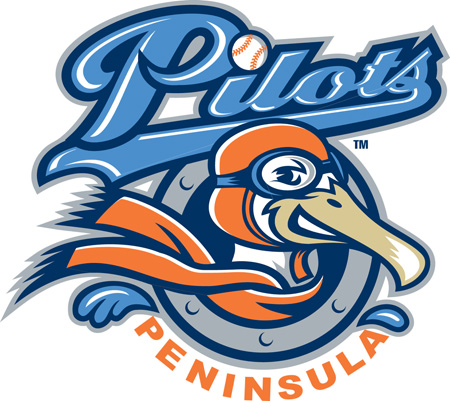 The Peninsula Pilots snapped a three-game losing skid with a 3-1 victory over the Holly Springs Salamanders at War Memorial Stadium on Friday night.
With pitchers from both teams combining to strike out 30 batters, Jonathan Embry (Liberty) gave the Pilots an early lead and the Pilots' pitching staff kept the Salamanders off balance to secure the win and snap the losing streak.
Jonathan Embry (Liberty) put the Pilots ahead in the second inning with a bases-clearing double. Back-to-back singles by Sam Griggs (Southern Indiana) and Nathan Eaton (VMI) started off the inning. After Zac Ching (VCU) drew a walk to loaded the bases, Embry raked a liner into the right-center gap to clear the bases for an early 3-0 advantage.
Josh Hollander (Kent State) put the Salamanders on the board with a solo shot to left field in the third inning.
Braun Miller (Malone) picked up the win after going five solid innings and only gave up a run while scattering seven hits. The left-hander struck out six to improve to 2-1 on the season. Collin Liberatore (Pittsburgh) was dominant in relief by striking out seven in three innings of work before Tad Ratliff (Lincoln Memorial) threw a scoreless ninth inning for his fifth save of the season.
After the Pilots notched four hits in the first two innings, the Salamanders kept the Pilots offense at bay and did not allow a hit for the remainder of the game. Joseph Williams (James Madison) fell to 0-2 on the season after giving up three runs in three innings.
The Pilots will head down to Wilmington on Saturday night for a doubleheader against the Sharks beginning at 6:05 p.m. The team will return to War Memorial Stadium for three consecutive games as they welcome the USA Collegiate National Team on Sunday night.
For more information regarding the season, please visit www.peninsulapilots.com. For up to the minute details on Pilots Baseball be sure to "Like" us on Facebook and follow us on Twitter and Instagram @PeninsulaPilots. Also, be sure to download the Peninsula Pilots mobile app available for both iPhone and Android users! Use the #PilotsNation to spread the word about the Pilots!
The Coastal Plain League is the nation's premier summer collegiate baseball league. Celebrating its 22nd season in 2018, the CPL features 16 teams playing in Georgia, North Carolina, South Carolina and Virginia. The CPL has had over 1,450 alumni drafted and 111 of those – including 2011 AL MVP and Cy Young winner Justin Verlander – make their Major League debut; while another notable alum – Russell Wilson – won Super Bowl XLVIII. For more information on the Coastal Plain League, please visit the league website at www.coastalplain.com and follow us via Facebook, Twitter, Instagram and Snapchat @CPLBaseball..
Contact:
Taylor Sherrill
Phone:
757-245-2222