Updated June 01 2017
WILSON, N.C.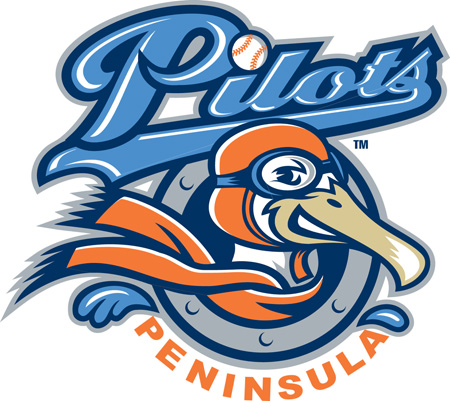 Behind an 11-hit attack and solid pitching from a trio of pitchers, the Peninsula Pilots shut out the Wilson Tobs 6-0 at Historic Fleming Stadium on Thursday night.
The Pilots (2-0) pounded out 13 hits with Drake McNamara (Southern Indiana) leading the way with a 3-for-4 performance while Matt Schneider (Mercyhurst) and Chris Lehane (Jacksonville) each added two hits apiece.
On the mound, Vinnie Tarantola (Liberty) and Zach Clinton (Liberty)) each tossed four scoreless innings apiece and struck out a combined seven batters. Matt Mullenbach (Lincoln Memorial)) pitched a scoreless ninth inning with two strikeouts to preserve the shutout.
After three scoreless innings, the Pilots struck first with a Schneider double down the left field line that scored McNamara, who drew a leadoff walk.
Peninsula tacked on another run in the fifth inning with McNamara's RBI single that was set up by back-to-back singles by Grant Maiorana (Virginia Tech) and Jonathan Embry (Liberty).
With the Pilots' pitching staff keeping the Tobs off balance, the visitors added a couple of insurance runs in the seventh inning with a RBI single by Jack Owens (Virginia Tech) and an error.
The Pilots added a run in the eight on a sacrifice fly by Embry and Owens scored on a double play in the ninth to give the Pilots their sixth run of the night.
Wilson was led by Dawnoven Smith (North Carolina A&T)), who had a 3-for-4 night while Alex King (St. Louis) and Jacob Williamson (Navy) each had two hits. Casey Williams (Liberty) took the loss for the Tobs after allowing two runs on six hits and striking out three in six innings of work.
For more information regarding the season, please visit www.peninsulapilots.com. For up to the minute details on Pilots Baseball be sure to "Like" us on Facebook and follow us on Twitter and Instagram @PeninsulaPilots. Also, be sure to download the
Peninsula Pilots mobile app available for both iPhone and Android users! Use the #PilotsNation to spread the word about the Pilots!
The Coastal Plain League is the nation's premier summer collegiate baseball league. Celebrating its 22nd season in 2018, the CPL features 16 teams playing in Georgia, North Carolina, South Carolina and Virginia. The CPL has had over 1,450 alumni drafted and 111 of those – including 2011 AL MVP and Cy Young winner Justin Verlander – make their Major League debut; while another notable alum – Russell Wilson – won Super Bowl XLVIII. For more information on the Coastal Plain League, please visit the league website at www.coastalplain.com and follow us via Facebook, Twitter, Instagram and Snapchat @CPLBaseball..
Contact:
Taylor Sherrill
Phone:
757-245-2222