Updated July 12 2017
ASHEBORO, N.C.-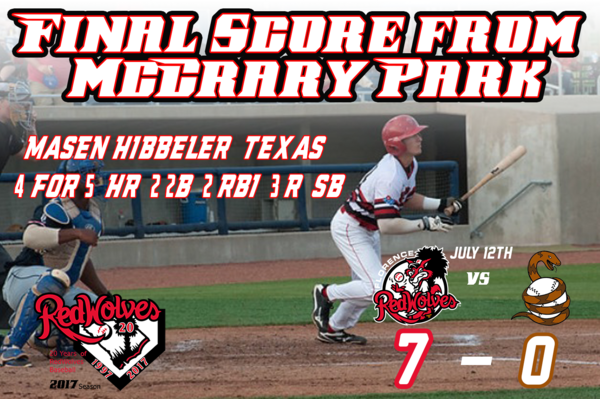 Piekos, Hibbeler Handle Copperheads, Shutout Asheboro 7-0
Hibbeler 4-for-5 (HR, 2 2B, 2 RBI, 3 R, SB), Piekos throws eight innings, strikes out eight
ASHEBORO, N.C.- Fresh off of the Coastal Plain League All Star break, the Florence RedWolves invaded McCrary Park on Wednesday night and left the Cooperheads coiled, shutting them out 7-0 behind stellar performances by Jack Piekos and Masen Hibbeler.
Jack Piekos (3-2) pitched 7.2 shutout innings against Asheboro (13-21, 2-4) on way to his third win of the season behind 12 hits and 7 runs of offensive production. The left-hander out of Eastern Kentucky University struck out eight Copperheads while walking just one on two hits. Additionally, with the nine shutout innings from RedWolves pitching tonight, that marks 24 straight innings the Copperheads have not scored a run.
Florence (18-15, 4-2) wasted no time in getting the offense going, as the team scored three runs in the first inning. Masen Hibbeler (4-for-5, HR, 2 2B, 2 RBI, 3 R, SB) got the parade off to a hot start, leading off the game with a home run to deep center field. Zach Jacobs followed with a double down the right field line and advanced to third on a fielding error by the right fielder. Clay Casey, who extended his hitting streak to 11 games, singled to right that scored Jacobs to make it, 2-0. Tyler Webb then drew a walk. The next batter Matt Beaird struck out swinging as both runners were off on the pitch. Casey reached third safely, but Webb was caught in a rundown between first and second. After five players touched the ball, Webb was finally tagged out, though, Casey was able to score on the play to drive a 3-0 lead for the RedWolves.
Hibbeler struck again in the top of the second inning driving in Cornell Nixon on a two-out RBI double to the wall in right-center. Nixon singled with two outs to centerfield before Hibbeler recorded his second run batted in on the night to put the RedWolves on top, 4-0.
The RedWolves plated an additional run in the fifth inning on a sacrifice fly from Beaird. Hibbeler led off the inning beating out an infield single. After a groundout from Jacobs and a walk to Casey, Hibbeler stole third and Casey moved to second on an error by the catcher. After Webb walked for his second time, Beaird lifted the sacrifice fly to right bringing the Florence lead to 5-0 in the fifth.
In the seventh inning Hibbeler led off stroking a double to the gap in right center to put him 4-for-4 to that point. He moved to third on a throwing error by the centerfielder, Clark Brinkman and Jacobs followed with a walk. With one out, Webb grounded into a fielder's choice that allowed the sixth run for the RedWolves to score.
Florence made it a 7-0 game in the eighth on a two-out run scoring double from Webb. Casey, who was 3-for-4 on the night with a double, two runs scored and a walk, reached on a double before Webb.
With the win, Florence moves into second place of the second half West Division standings, behind High Point Thomasville (5-0).
Florence will play the Savannah Bananas at home on Thursday, July 13th for Carolina/Coastal/Clemson Night. Wear your colors and let's celebrate a year full of National Championships! It'll be Thirsty Thursday with Budweiser drink specials and wing specials presented by Buffalo Wild Wings. Visit www.florenceredwolves.com for more information and tickets.
- RedWolves -
The Coastal Plain League is the nation's premier summer collegiate baseball league. Celebrating its 22nd season in 2018, the CPL features 16 teams playing in Georgia, North Carolina, South Carolina and Virginia. The CPL has had over 1,450 alumni drafted and 111 of those – including 2011 AL MVP and Cy Young winner Justin Verlander – make their Major League debut; while another notable alum – Russell Wilson – won Super Bowl XLVIII. For more information on the Coastal Plain League, please visit the league website at www.coastalplain.com and follow us via Facebook, Twitter, Instagram and Snapchat @CPLBaseball..
Contact:
Phone: