Updated October 12 2017
WILSON, N.C.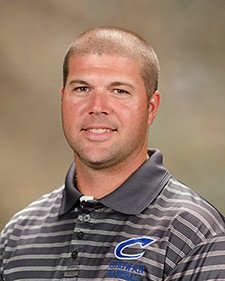 Wilson, NC – The Tobs promotional and fan interactive success brought about the highest attendance since 2010. Three year head coach Aaron Lynch has accepted a coaching position at the University of Pittsburgh and will be active in leading the Tobs prospects camp, thus the Tobs have made a change at head coach for the upcoming 2018 season. Former Wilson Tobs head coach Bryan Hill, 2012, returns to the location of his first head coaching stint within the Coastal Plain League (CPL).
Hill's most recent experience within the CPL was at the helm of the Edenton Steamers from 2013-2016. During his tenure guiding the Steamers, Hill saw tremendous success and is regarded as one of the top CPL coaches of all time. Tobs General Manager Mike Bell had this to say when talking about Hill's track record, "The Tobs staff is excited to bring back Bryan to the organization due to his history with the Tobs and proven success within the CPL. I have a great feeling that 2018 will be one of the best seasons yet."
During Hill's 4-year stint managing the Steamers, he amassed a 153-72 (.680) overall record, claim the Petitt cup in 2015, and was named CPL Coach of the year in 2013 & 2015. During his 4 full-seasons with Edenton Hill laid claim to five of the eight 1st/2nd Half Division Champions. Additionally, after raising the Petitt Cup in 2015 Edenton was also named Perfect Game Summer Collegiate Team of the Year. During his first year as manager of the Steamers (2013) his team was ranked 6th in the Perfect Game Summer Collegiate Baseball Final Poll. Not only has Bryan's coaching success stood out, but he has had several individual player awards:
• Coastal Plain League Hitter of the Year (2015)
• Coastal Plain League Pitcher of the Year (2015)
• 15 CPL Midseason All-Stars
• 13 CPL Player of the Week Honors
• 30 MLB Draft Picks
• 8 MLB Free Agent Signees
Hill's comments about his experience and time in Wilson reflect his eagerness to hit the ground running, "I am extremely excited to get back to Wilson and I have always enjoyed being at Fleming Stadium. Wilson is like home to me, considering I grew up just down the road in Greenville. I had a great time during the 2012 season in Wilson and am looking forward to getting back here to bring the first Petitt Cup home for the Tobs."
Hill is currently serving as Hitting & Third Base Coach at Chowan University, Division II in Murfreesboro, NC, and has since 2014. Prior to serving as the hitting coach at Chowan, Hill was named the pitching coach starting in 2011.
Hill played his collegiate baseball at Chowan from 2006-2009 as a 2-way player, LHP & outfielder. He holds the career record for innings pitched (267.1) and was named to the All NCAA South Region Team as a pitcher in 2006. Additionally, Hill played the 2007 summer within the CPL for the now disbanded New Bern Fiver Rats as a starting pitcher. Prior to his collegiate playing days, Hill was a member of American Legion Post 39 when they won the State Championship in 2005 and was also named MVP during the 2006 season with Post 39. In High School, Bryan attended and played at J.H. Rose and was a member of the 2003 & 2004 4-A High School State Champions and was also designated Defensive Player of the year in 2005.
He is married to Jacqueline Hill of Chesapeake, Virginia. The couple has one daughter, Lou-Anna. They currently reside in Murfreesboro, N.C.
The Coastal Plain League is the nation's premier summer collegiate baseball league. Celebrating its 22nd season in 2018, the CPL features 16 teams playing in Georgia, North Carolina, South Carolina and Virginia. The CPL has had over 1,450 alumni drafted and 111 of those – including 2011 AL MVP and Cy Young winner Justin Verlander – make their Major League debut; while another notable alum – Russell Wilson – won Super Bowl XLVIII. For more information on the Coastal Plain League, please visit the league website at www.coastalplain.com and follow us via Facebook, Twitter, Instagram and Snapchat @CPLBaseball..
Contact:
Max Gagnon
Phone:
(252) 291-8627