Updated August 04 2017
FOREST CITY, N.C.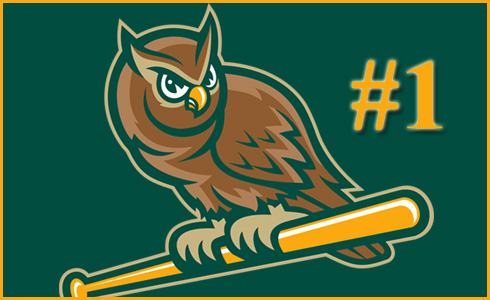 The Owls were scheduled to host a doubleheader against the Lexington County Blowfish (22-30, 13-12) on Friday night, but instead only played one game due to weather.
Forest City (34-18, 15-10) agreed with the Blowfish to cancel game two, deeming the field unplayable.
In game one, only five and one-half innings were played as the Owls took the win 7-5.

Forest City opened up the scoring in the 1st, as Alex Reynolds (Lenoir-Rhyne) had an RBI groundout to make it 1-0.
On the mound, the Owls looked to Tyler Lawson (Long Beach State) to get the start. Lawson tossed five innings on the hill, allowing five runs with one strikeout.
Lawson's cushion doubled in the 2nd as Joel McDaniel (Appalachian State) drove in AJ Wright (UMBC) on an RBI single making it 2-0.
The Blowfish got on the board in the 3rd on an RBI sacrifice fly by Marshawn Taylor (Grambling State) to cut the deficit in half.
The Owls began pulling away in the bottom half of the frame, putting up four runs.
The inning was highlighted by a two-RBI single by McDaniel and an RBI single by Reynolds.

In the 5th, Lexington put up four runs all via the long ball. First, a three run homerun by Nick Guimbarda (Presbyterian) made it 7-4. The Blowfish went back-to-back as Drew Ellis (Mount Olive) hit a solo shot moments later, making it 7-5.
In the bottom of the 6th, the game entered a weather delay and never resumed. Game two was canceled as well as the Owls took the win in game one.
Forest City returns to action tomorrow for their regular season home finale as they host the Gastonia Grizzlies at 7:05 p.m. You can listen to all the action of the game live on the Forest City Owls Radio Network.
To find out more about 2017 Owls playoff tickets or 2018 Owls Season Tickets, please contact the Owls Office at 828-245-0000 or visit the website at www.forestcitybaseball.com.
The Coastal Plain League is the nation's premier summer collegiate baseball league. Celebrating its 22nd season in 2018, the CPL features 16 teams playing in Georgia, North Carolina, South Carolina and Virginia. The CPL has had over 1,450 alumni drafted and 111 of those – including 2011 AL MVP and Cy Young winner Justin Verlander – make their Major League debut; while another notable alum – Russell Wilson – won Super Bowl XLVIII. For more information on the Coastal Plain League, please visit the league website at www.coastalplain.com and follow us via Facebook, Twitter, Instagram and Snapchat @CPLBaseball..
Contact:
Zachary Penrice
Phone:
828-245-0000