Updated August 08 2017
FOREST CITY, N.C.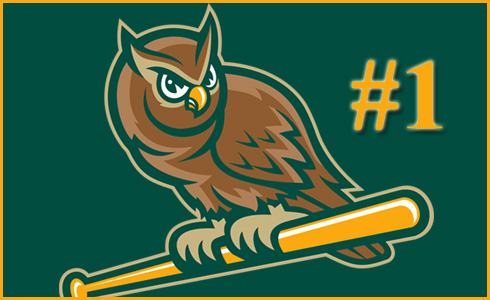 Forest City's season came to a very abrupt end on Tuesday night in the wildcard game against the Gastonia Grizzlies (31-26).
The Owls (36-19) never got the bats going while the Gastonia offense stayed hot all night long, a recipe for disaster for Forest City.
The Grizzlies opened up the scoring in the 1st against Owls starter Danny Poidomani (Stevens Institute) on a two-run homerun by Thomas Yoder (Belmont Abbey).
In the 2nd, Forest City took their first and only lead of the night on a three-run homerun by Joel McDaniel (Appalachian State) to make it 3-2.
In the 5th, Poidomani was taken from the game with the Owls trailing 5-3 thanks to a trio of RBI base hits in the 5th.
Gastonia racked up three runs in both the 4th and 5th innings to take a commanding 8-3 lead and never looked back.
The Owls scored their final run of the 2017 season on a solo homerun by McDaniel as he went yard for the second time of the night, making it 11-4.
On the mound for Gastonia was Jacob Breakfield (Western Carolina) who mowed down the Owls offense all night.
With the exception of the three-run homerun surrendered to McDaniel, Breakfield allowed zero runs on five hits while striking out eight Owls hitters.
In the end, Gastonia was the better team on Tuesday, as their bats exploded for 11 runs and 16 hits.
Forest City still had one of the best seasons in franchise history, winning the first and second half west division titles along with holding the best record in the Coastal Plain League.
It's tough for it to end with an 11-4 win, but there is still nothing for this team to hang its head on. The season comes to an end, but the team will be back next May with more excitement in store.
To find out more about 2018 Owls Season Tickets, please contact the Owls Office at 828-245-0000 or visit the website at www.forestcitybaseball.com.
The Coastal Plain League is the nation's premier summer collegiate baseball league. Celebrating its 22nd season in 2018, the CPL features 16 teams playing in Georgia, North Carolina, South Carolina and Virginia. The CPL has had over 1,450 alumni drafted and 111 of those – including 2011 AL MVP and Cy Young winner Justin Verlander – make their Major League debut; while another notable alum – Russell Wilson – won Super Bowl XLVIII. For more information on the Coastal Plain League, please visit the league website at www.coastalplain.com and follow us via Facebook, Twitter, Instagram and Snapchat @CPLBaseball..
Contact:
Zachary Penrice
Phone:
828-245-0000