Updated July 13 2017
FOREST CITY, N.C.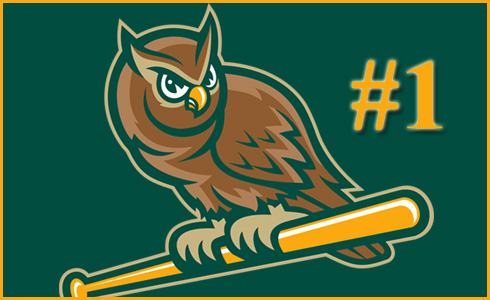 Forest City had their three game winning streak snapped on Thursday night at McNair Field as the High Point-Thomasville HiToms (19-14, 6-0) continued their hot streak to a 5-2 win.
The Owls (23-11, 4-3) looked to Tyler Lawson (Long Beach State) on the mound to start the game. Of the six innings he pitched, Lawson sent the HiToms down in order in four of them.
Forest City struck first in the 1st inning against High Point starter Jason Goe (Morehead State). Collin Dupree (Montevallo) came in to score on an error by HiToms catcher Ryne Stanley (North Carolina A&T) to make it 1-0.
In the 2nd, High Point took a lead they would never relinquish on a three-run homerun by Callahan Moltzan (Utah Valley).
Two innings later, the second long-ball of the night for the HiToms was hit by Evan Edwards (NC State) to put the visitors up 4-1.
From the 2nd inning, until the 8th, Forest City was held hitless by Goe on the mound.
He was outstanding for High Point all night long, tossing seven innings, surrendering one unearned run on three hits while striking out nine batters. He also sent down the last nine batters he faced before being taken out before the 8th.
In the 7th, the HiToms padded their lead with another run off a wild pitch by Owls reliever Zac Brown (Mars Hill).
High Point confidently carried their 5-1 lead to the 8th, as Erin Baldwin (Samford) took over on the hill for Goe.
Forest City took advantage of the new pitcher, scoring a run on an RBI double by Connor Grant (North Greenville) to bring in Seth Hoagland (Iona), making it 5-2.
"I was looking for a fast ball, and he gave it to me," Grant said.
In the 9th, Landon Whitson (Lenoir-Rhyne) took over in relief of Brown on the mound. Whitson gave up a leadoff double, but maneuvered his way out of the jam to keep the deficit at three runs.
For the HiToms, Baldwin sent the Owls down in order in the bottom of the 9th to give his team the win, extending their winning streak to six games.
"For me, I thought Tyler Lawson pitched a great game," Owls head coach Matt Reed said. "We had only given up five runs going to the 9th for the second game in a row and that puts us in a position to win."
Forest City returns to action tomorrow in an exhibition clash against the Catawba Valley Stars at McNair Field. First pitch is scheduled for 7:05 p.m. and you can listen to all the action live on the Forest City Owls Radio Network.
To find out more about 2017 Owls Season Tickets, please contact the Owls Office at 828-245-0000 or visit the website at www.forestcitybaseball.com.
The Coastal Plain League is the nation's premier summer collegiate baseball league. Celebrating its 22nd season in 2018, the CPL features 16 teams playing in Georgia, North Carolina, South Carolina and Virginia. The CPL has had over 1,450 alumni drafted and 111 of those – including 2011 AL MVP and Cy Young winner Justin Verlander – make their Major League debut; while another notable alum – Russell Wilson – won Super Bowl XLVIII. For more information on the Coastal Plain League, please visit the league website at www.coastalplain.com and follow us via Facebook, Twitter, Instagram and Snapchat @CPLBaseball..
Contact:
Zachary Penrice
Phone:
828-245-0000