Updated July 07 2017
FOREST CITY, N.C.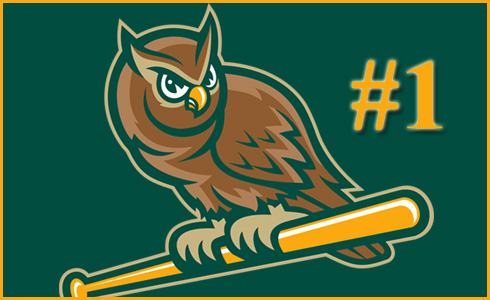 Through four games, the Forest City Owls (22-10, 3-2) started off the second half of the season the same way they started the first, with a record of 2-2.
On Friday night at McNair Field, the Owls hosted the Asheboro Copperheads (13-20, 2-3) as they looked to continue their first half trend in the second half.
Forest City would do just that, winning the game 6-0 as they shut out Asheboro for the second time this week (Forest City won on Monday 3-0).
In the 2nd, the Owls broke through against Copperheads starting pitcher Bryce Tassin (Southeastern Louisiana) for a pair of runs.
They both came on a two RBI single by Bradley Davis (Appalachian State) to bring in Carson Jones (Lander) and Alex Reynolds (Lenoir-Rhyne) to score. Reynolds, making his debut on Friday night went 0-3 with a walk and two runs scored.
On the mound, the Owls turned to Danny Poidomani (Stevens Institute of Technology) for his sixth start of the year.
On his birthday, Poidomani was all Forest City needed, pitching five innings, while giving up no runs on six hits and striking out eight Copperhead hitters.
In the 4th, the Owls padded the lead for their left-handed pitcher on one swing of the bat. Ryan Kemp (Middle Tennessee State) sent a three run homerun (1) over the 25-foot wall in left field to put Forest City on top 5-0.
"He hung a slider, I put a good swing on it," Kemp said. "It hasn't been going well for me lately, so that's a huge weight off my shoulders. Hopefully I can keep this up."
Kemp went 3-4 with three RBI's and a stolen base.
In the 6th, Connor Dailey (Lenoir-Rhyne) took over for Poidomani on the mound. Dailey provided solid work out of the bullpen, tossing three innings of scoreless relief.
Forest City extended their lead in the 7th with one final run of the insurance. Brett Centracchio (Davidson) was hit by a pitch thrown from Jacob Craver (UNC Charlotte) with the bases loaded. The hit by pitch allowed Nic Moore (Wayland Baptist) to score, making it 6-0.
In the 9th, Alex Moore (Eckerd) entered to close the door on any Copperheads threat. Asheboro, who put runners in scoring position in six of nine innings, could not manage a run in the game, as Moore closed it out on the bump to give Forest City a 6-0 win.
"Great overall win. They did a good job to come in and pitch out of some jams," Owls head coach Matt Reed said. "We played good defense all-around and got a good result that we will try to build off of heading to tomorrow."
Just as they started the first half 3-2, the Owls start the second half of the season with a 3-2 record, with a league-best 22-10 overall record as well.
Forest City returns to action tomorrow for the final game before the all star break. The Owls take on High-Point Thomasville on the road at 6:00 p.m. As always, you can listen to coverage of the game live on the Forest City Owls Radio Network.
To find out more about 2017 Owls Season Tickets, please contact the Owls Office at 828-245-0000 or visit the website at www.forestcitybaseball.com.
The Coastal Plain League is the nation's premier summer collegiate baseball league. Celebrating its 22nd season in 2018, the CPL features 16 teams playing in Georgia, North Carolina, South Carolina and Virginia. The CPL has had over 1,450 alumni drafted and 111 of those – including 2011 AL MVP and Cy Young winner Justin Verlander – make their Major League debut; while another notable alum – Russell Wilson – won Super Bowl XLVIII. For more information on the Coastal Plain League, please visit the league website at www.coastalplain.com and follow us via Facebook, Twitter, Instagram and Snapchat @CPLBaseball..
Contact:
Zachary Penrice
Phone:
828-245-0000